When you present your work to other artists for feedback, do you contextualise your work first or do you let the work speak for itself?
Natalia Markowska, who presented first, chose the former and began her presentation by reading a letter that she wrote to herself, it was an inner dialog about the process of making.  Above are some of my notes from it that I have reconfigured and structured in the Dada order.
As we moved to look at Natalia's drawings and sculptural works, we learnt that therapeutic, contemplative and the performative potentiality of making processes are crucial to the artist's practice. She not only will draw a line without stopping for ninety minutes, but she will also attempt to remain fully present throughout the whole process.
lefttorightlefttorightlefttorightlefttorightlefttorightlefttorightlefttorightlefttorightlefttor
Drawings weren't enough though. They didn't feel like the final work, their flatness wasn't quite satisfying. Thus in the new works the line became tangible, sticky, spatial, unpredictable, frustrating, yet exciting.
Natalia Markowska, 51Nevi (2016), pencil on paper, 29.7 x 42 cm
The process of making, repeated stopping and looking remained the focus of the second presentation by Nick Granata, who showed video work Kim's Empty Urn, (2017) and a selection of objects that featured within the video.  Will they be shown together with the video? Or will they stand on their own as an installation of sculptural pieces? Will poetry in the video remain within its own rhythm and monotone reading or will it be overlaid with additional subtitles?
In addition to discussing various modes of (re)presentation, we considered the work within the context of bird watching, Object Oriented Ontology and aesthetic strategies that overload the reader with information, images and narratives.
Mattina Hiwaizi also presented a video work, cats (korek mountain 2.0), (2017). The artist showed us one of the three edits that corresponded to the space where work is being shown. Does there have to be only one final edit? The question remains.
Through dynamic editing, collaging of multiple images, provoking soundscapes and soundtracks and forming tender, yet bewildering relationships to the space, Mattina draws an alternative register of Kurdistan, which is frequently either invisible or represented in news through war and crisis footage.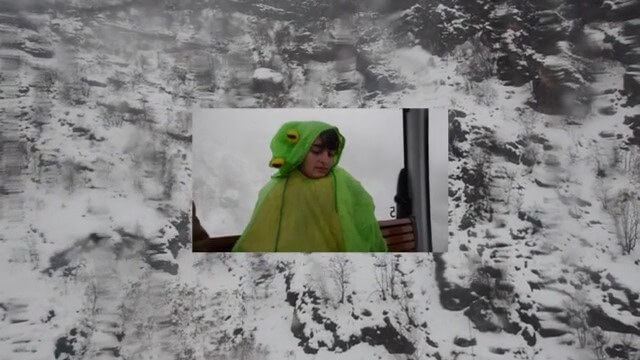 Mattina Hiwaizi, cats (korek mountain 2.0), (2017), video still.
Revisiting and redefining the artist's origins also appeared in Scarlett Hirst's work who presented a large painting, McNoodle King, (working title), (2017). The painting represents a takeaway shop front in Holmfirth, where the artist is from. The work wasn't stretched on canvas and was presented by being held up in the air. One could appreciate the creases and visible mobility of the work.
As the artist works mostly with performance, the painting originally was meant to be a backdrop for a performance, part of a larger series representing various 'different worlds'. We talked about various ways in which the work could be activated, as well as the 'lads painting culture', gentrification and appropriation (and poverty fetishisation) of working class aesthetics within predominantly middle class art spaces.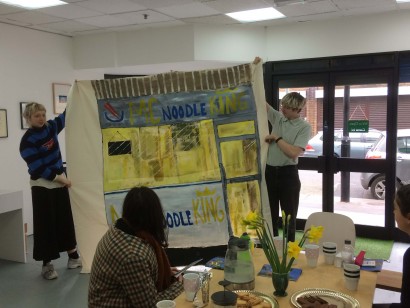 Raquel Yago Boj who presented last brought the conversation back to the landscape. In the series Fuerteventura (2016) she intervenes within a deserted landscape, in which she places bright color geometrical entities that are then being scrapped of their three-dimensional materiality within the flat photographic print.
Raquel challenges viewer perception and through overlapping different systems of representation she directs viewer attention to contemplate abstract and illusory version of landscape photography.