To coincide with our free Groundwerk workshop 'Project Management & Budgeting' run by Ruth Claxton, we thought it could be useful to share some of the tools we use here at Turf to help keep ourselves organised and manage creative projects collaboratively and individually.
This post is more about tools rather than strategies – if you're after more of a 'How to' of the basics of creative project management, then click here to take a look at Ruth's notes from the Groundwerk session.
At Turf we often get into the impostor syndrome feeling like we're not doing things in the 'right' way (and about lots of different things); usually because we've learnt it on the job / don't have a degree in it! This is just what we use, and the right tools & methods are the ones which work best for you and those around you.
Tools we use to manage our projects
To organise our tasks across the team;
Asana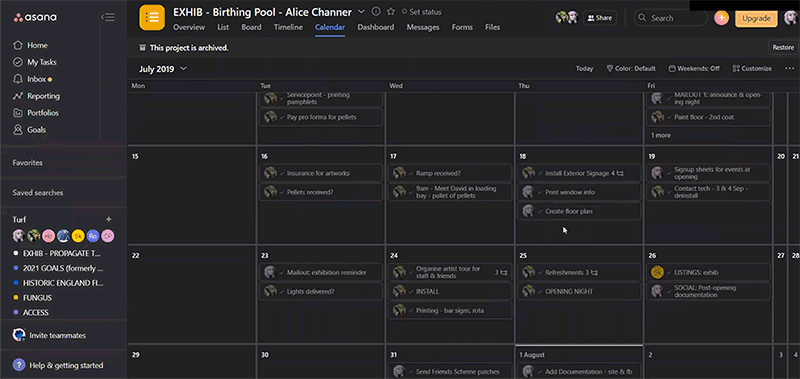 We plan and keep track of all the tasks we need to do using Asana, where you can make projects (e.g. putting on an exhibition) with tasks and subtasks to break down the steps of a project.
We also assign those tasks to different people with due dates to make teamworking easy & clear. You can also:
View tasks in a calendar or list. Calendar view is a big plus of asana for some of us, to help plan time over the duration of a project.
Upload files to & comment on tasks – this keeps conversations and relevant files organised in one place.
Create templates. We've made a template for the major steps involved in big projects to use as a starting point, so we don't have to line up absolutely everything every single time.
See what other people have got on / completed etc – good for managing a group of collaborators.
If you have the paid version you can have dependent tasks (i.e. Pinky needs to do X before Brain can do Y) and timeline.
Asana has a browser extension, Slack extension, and a mobile app (but the app is a bit rubbish imo).
Where? Asana.com (referral link – if you're planning on signing up to Asana you can support Turf as a charity too)
Pricing: Discounts for nonprofits, basic plan free up to 15 team members & very functional, paid version starts at £9.49 per user per month.
Asana has some pro features we'd love to be able to use! You can help us by signing up to Asana via our referral link here, where we can get referral rewards for signups, which all go back into running Turf as a charity.
We also have the pro version on our wishlist -if you're feeling generous and want to help us out with something really practical you can donate it to us here. 🙂
Alternatives:
Gantt charts  – a fancy excel project management spreadsheet.
Monday – quite similar to asana, it's the one I'd test out as an alternative but no free plan ☹. Pricing depends on size of team, starting at £35 per month. Discounts for nonprofits.
Trello – board layouts. Basic version free Paid from $9.99 per user per month.
Basecamp – modular layouts. Free personal version or 30 day free trial of business $99 flat rate for business.
Go traditional with a whiteboard! Not very accessible if you're not in the same place or have team members with visual impairment though.
To keep in touch and up to date with each other:
Slack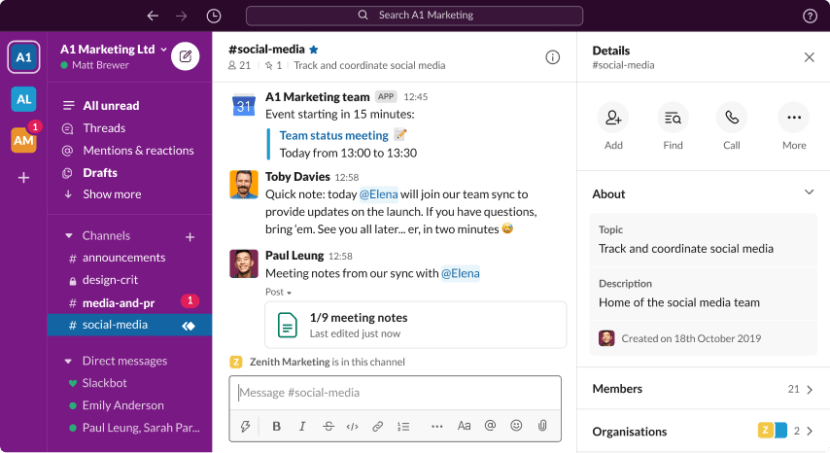 At Turf we all work part time, so different team members aren't always in the space on the same days (and of course recently we've had a lot of remote working).
We use Slack – which is basically instant messaging for teams – to discuss things so we can all keep up to date & be kept involved in conversations and decisions, as well as for quickly sharing files.
Thanks to Slack we basically never have to email within the team. You can also make private channels to invite temporary collaborators into discussions.
Slack can be used in browser, on desktop, or via an app. It also has tons of integrations with Slack, Asana, Google Calendar & Docs, mailchimp etc.
Where? slack.com
Pricing: The proper gems at Slack offer a free full plan for non-profits which has been invaluable for us during lockdown when we were basically discussing everything entirely over Slack and Zoom – you can apply here. Otherwise it's £4-5 per user, per month.
Alternatives:

Microsoft 365 / Microsoft teams – free for nonprofits, but we found it difficult to set up & use.
You could just use Asana or one of its alternatives and comment & discuss things within the tasks & projects.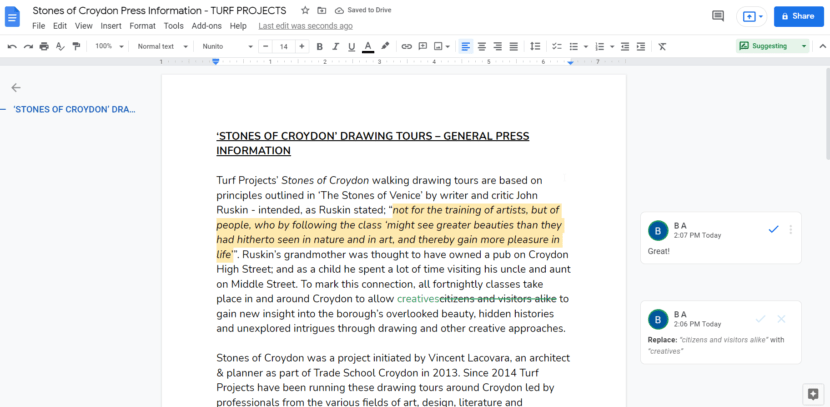 Google Drive is a bit like dropbox, it makes it easy to collaborate on and share files with others.
We use it for working on things together like exhibition texts, funding applications, planning exhibition ideas with artists remotely – especially using the suggesting and commenting features.
For example when planning a new show, we'd often send the artists a planning template document we've created so we can keep notes and ideas together in one file.
We also store files on google drive so we all have access to them, for things like press requests & regularly used design files.
IMPORTANT NOTE! If you're managing your projects within an organisation, I'd strongly, strongly recommend setting up a Shared Drive, not a shared folder via a personal drive. The permissions and sharing settings are a nightmare to manage and unpick on shared folders, and even more of a nightmare to transfer over later if you need to switch to a Shared Drive (trust us). 
Where? docs.google.com
Pricing: Free for personal use via Google accounts, from £4.14 if integrated into Google Workspace (which is free for non-profits).
Alternatives:
Notion – a note-making app gone rogue with to-do lists, pages, bookmarking and collaboration built in.
You can build whole resources with it which can be shared publicly – quite useful if you wanted to avoid Big Bad Google and I'd say it's actually more interconnective than Google Docs in some ways.
I found the learning curve quite steep, otherwise it might have the potential to replace a few of these suggestions in one go. It has an app but it's a bit sluggish to use.
Evernote is another popular alternative which does similar things. Free for personal use, $8 (approx £5-6) per team member per month for teams.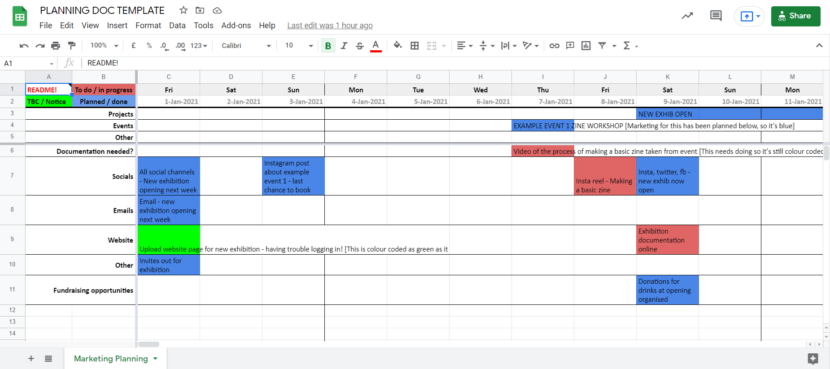 Leading on from Google Drive, we keep a marketing calendar in Google Sheets to plan all our social media and mailing list emails etc along a timeline, though it might not be necessary if you're using some of these tools – we just prefer to have this timeline overview as we have more than one person handling marketing.
We have a lot of different things going on so it makes sure we have time to promote everything we need to and (hopefully!) spacing it out enough so people don't get sick of hearing from us. This could be a lo-fi option for organising your time and tasks too.
Download a basic template of the one we've created and adapted over the years here (would love to know if you use it or make improvements to it!)
To schedule our social media:
Sked Social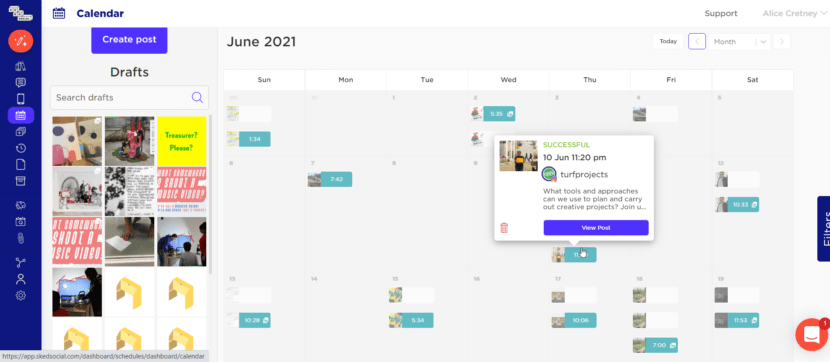 When our social media posts are planned out, we then use social media scheduler Sked Social (except for twitter, which now has an inbuilt scheduler wahoo).
It's a big time saver as we can schedule posts to promote a show, event etc in one go (and importantly when we're working, not in our down-time). Then they'll go out automatically.
The massive gripe with have with Sked is that they don't have a feature to use the inbuilt alt text features for the social platforms for those who use screen readers, so we have to add these in the descriptions of our posts instead. Sort it out, Sked! [EDIT – they DID sort it and there's now alt text functionality across the board! Great work Sked.]
Where? skedsocial.com
Pricing: From $25 (around £18) per month.
Alternatives:
Buffer – has alt text functionality, but works differently to Sked by 'nudging' you to post via push notification so not ideal for us.
To mood-board design & curatorial ideas:
Pinterest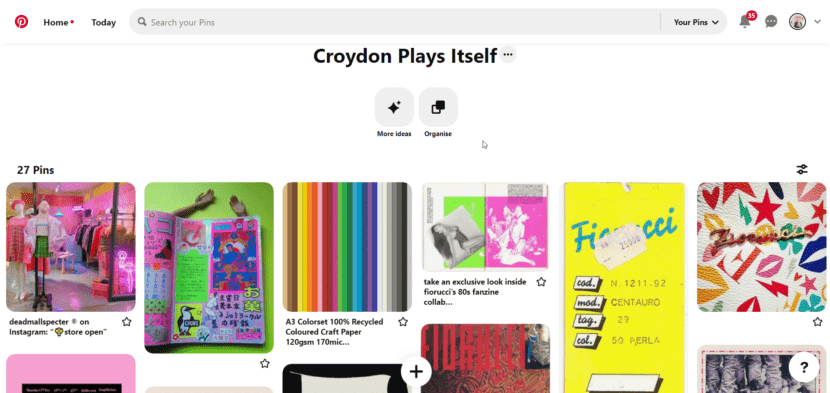 Pinterest has a weirdly twee reputation but essentially it's just a moodboard, so we find it a useful tool for saving visual inspiration digitally.
You can share & collaborate on boards so we've often used it when developing the visual identity for exhibitions with artists – curatorial inspiration, design for posters, flyers etc.
Where? pinterest.com
Pricing: Free
Alternatives:
Tumblr – the classic mood-boarding and diary site.
For more visual planning / mind-mapping:
Miro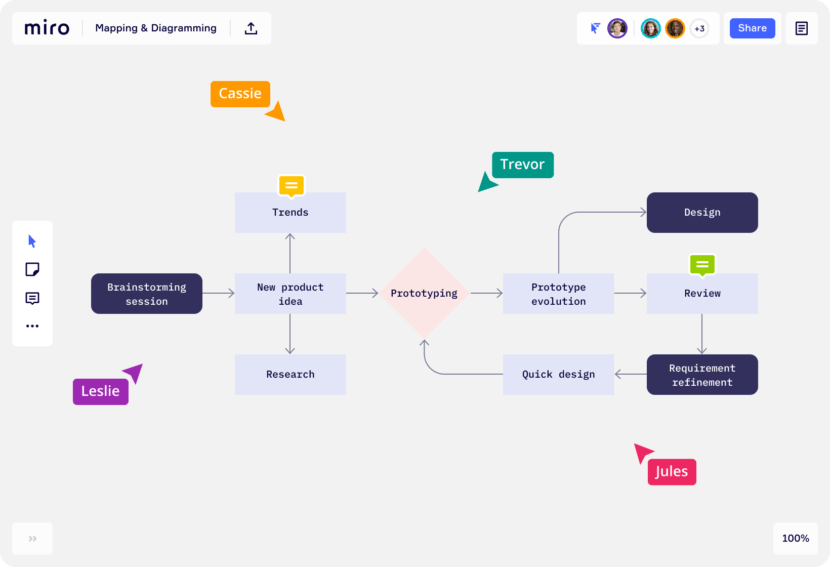 Recently we've started using Miro a bit for when we want more visual mind-mapping type planning e.g for mapping audience needs for a project. The visual lean of it might be of preference for a lot of you as artists.
Like Asana you can also assign 'tasks' to individuals to complete if you're collaborating with others, but it's less easy to break things down into subtasks and get an overview of what needs to be done in a list or calendar view, so it wouldn't be a replacement for us. I love using the arrows to click stuff together tho.
Where? miro.com
Pricing: Free plan up to 3 boards, $8 per member for more.
Alternatives:
Other top tips for keeping organised
Use integrations to link these tools together
You'll probably find (as we have!) that no one tool is a 'one size fits all' option so you can reach the holy grail of having everything in one place. However loads of these tools do offer ways to connect together via 'integrations' e.g pull in a reminder of Google Calendar items for the day into Slack, or add a task to Asana from Slack.
Likewise, many tools will have browser extensions to streamline things. The Pinterest browser button, for example, allows you to pin something directly from a webpage you're on, and the Asana extension allows you to create tasks from your browser bar.
Set goals and work back from them!
What's the mission; what's the point?
If you're not sure where to start with planning, it helps to set, work back to & regularly come back to your goals.
Note that goals can be loose but the tasks you plan to achieve them should always be specific – it's hard to get to a destination if you don't have a map!
Think "What actions might I need to do take to achieve this goal?".
For example to achieve the goal 'More visibility for studio artists' you might aim to put on a studio artists' takeover exhibition, which is then broken down into key components like 'Planning session', 'Create marketing materials', 'Arrange techs for install' etc.
Try and keep it quite broad though – sometimes we're not too good at this! You can end up spending more time agonising over planning than actually doing the thing.
Don't just budget money, budget TIME
Wherever and however you choose to plan and manage your things, don't just arbitrarily set goals or create tasks without thinking about T I M E!
If like us you have limited funding available to pay artists or team members to deliver a project, you need to try to ensure the time people have to complete each step is realistic and won't result in rushing, stress, things falling behind or people being underpaid for the amount of work they've done.
You also want to learn from this for the future – e.g if marketing took double the amount of time you expected, how do you adjust your budget or scope within a future funding application? If you're freelance – as many of us artists will be – you also want a solid, realistic idea of how long things take you to give accurate estimates to clients & commissioners.
Recently I've been testing out a tool called toggl track, which is feeling useful for this. It's a browser extension that adds a little time tracking button into your browser and/or Asana tasks. Hit the button and you can start tracking how long a task takes you – like our pal the Pomodoro I find it helps with focus, too.
Keep yourself organised personally:
In order to do a good job you need to be pretty organised personally so that things don't clash.
Some to-do apps we've tried (which might even be useful for littler projects & teams):
And last but not least… if you're always forgetting your passwords: Lastpass
Hope this has been useful! Please do comment below or DM us on instagram or twitter if you've got you've got any suggestions of how you do things – our way isn't perfect and we always want to hear about how other people keep themselves and their projects planned and organised.
~Turf