This was my first time hosting a virtual artist feedback session. I was joined by artists: Natasha MacVoy and Vanessa Nassar. Natasha MacVoy is an artist and curator, she spoke about HER MIT projects, a gallery she opened and curates within her home that hosts artists for intimate exhibitions. Her vision for HER MIT projects is to give artists a space, and to bring art to her local community. Natasha presented two images of her large scale text-based installation work, large squared off letters that feel structural to the room yet emotional and vulnerable. The word 'Host' surrounds a viewer as they enter the room, bringing the viewer into its space in a maternal way. She also showed a video of a sculptural piece (pictured below). She spoke along to the video live, part artist-statement and part poetry.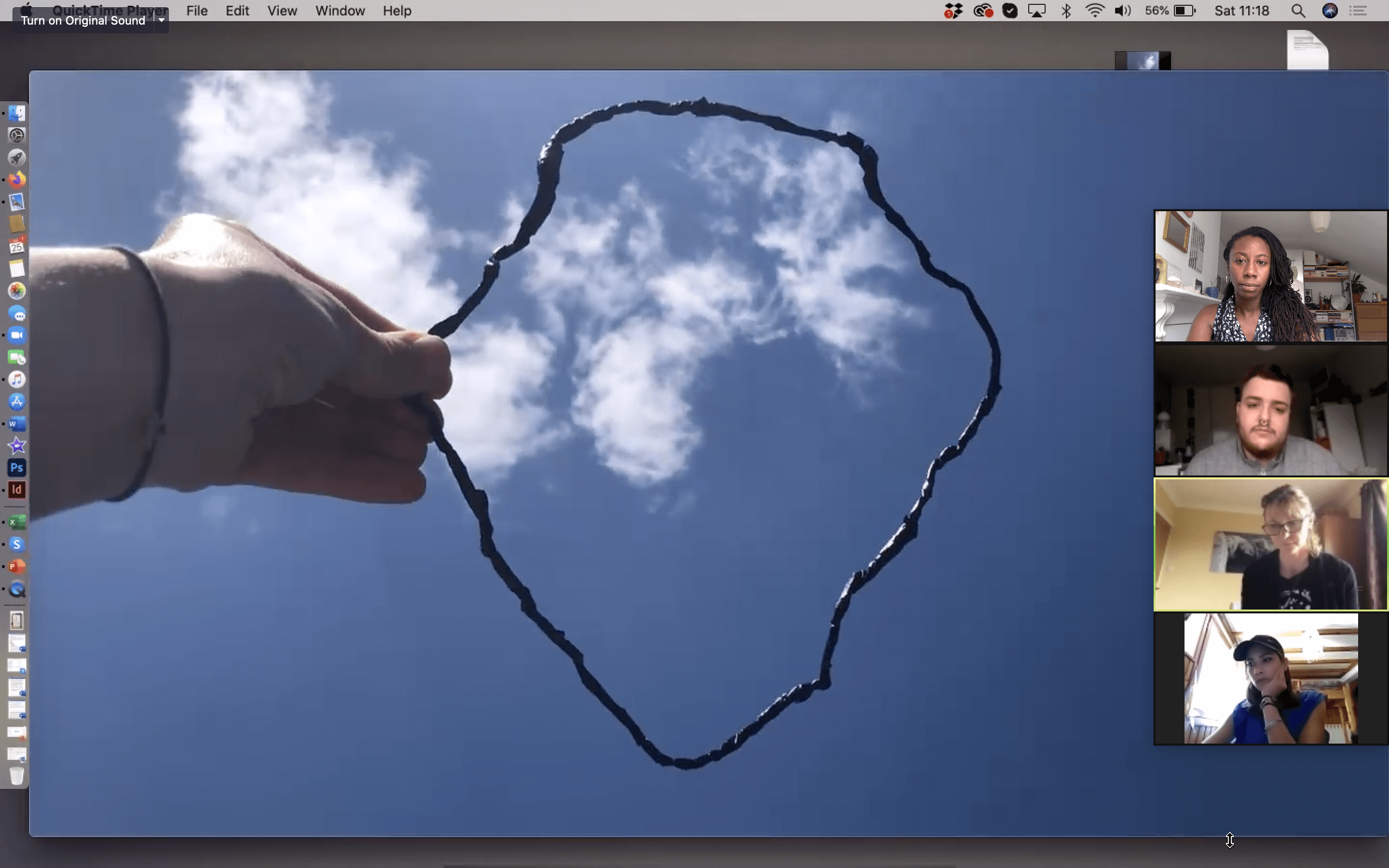 She talked about her interest in using the live voice as a tool, that speech can go wrong so easily can help the artist and viewer to be present within the work. Your voice can break, you can stutter or say a word incorrectly. She referenced how in theatre they sometimes add 'mistakes' to the script so the audience believes they are having a unique, intimate experience. I find it interesting that we get pleasure from situations we deem to be authentic, when realistically they are highly manufactured. Natasha's work feels like an antidote to that. Beirut based Vanessa Nassar has spent most of her adult life as an architect, and she uses that as a starting point for her work. She is inspired by the stories of people and places. She presented a progression of her painted work, getting more dream-like and colourful as the experimentation developed. Striking lines leading upwards with a soft, pastel colour palette, the paintings make you feel like you're on stood on the street looking up at a floating, utopian city.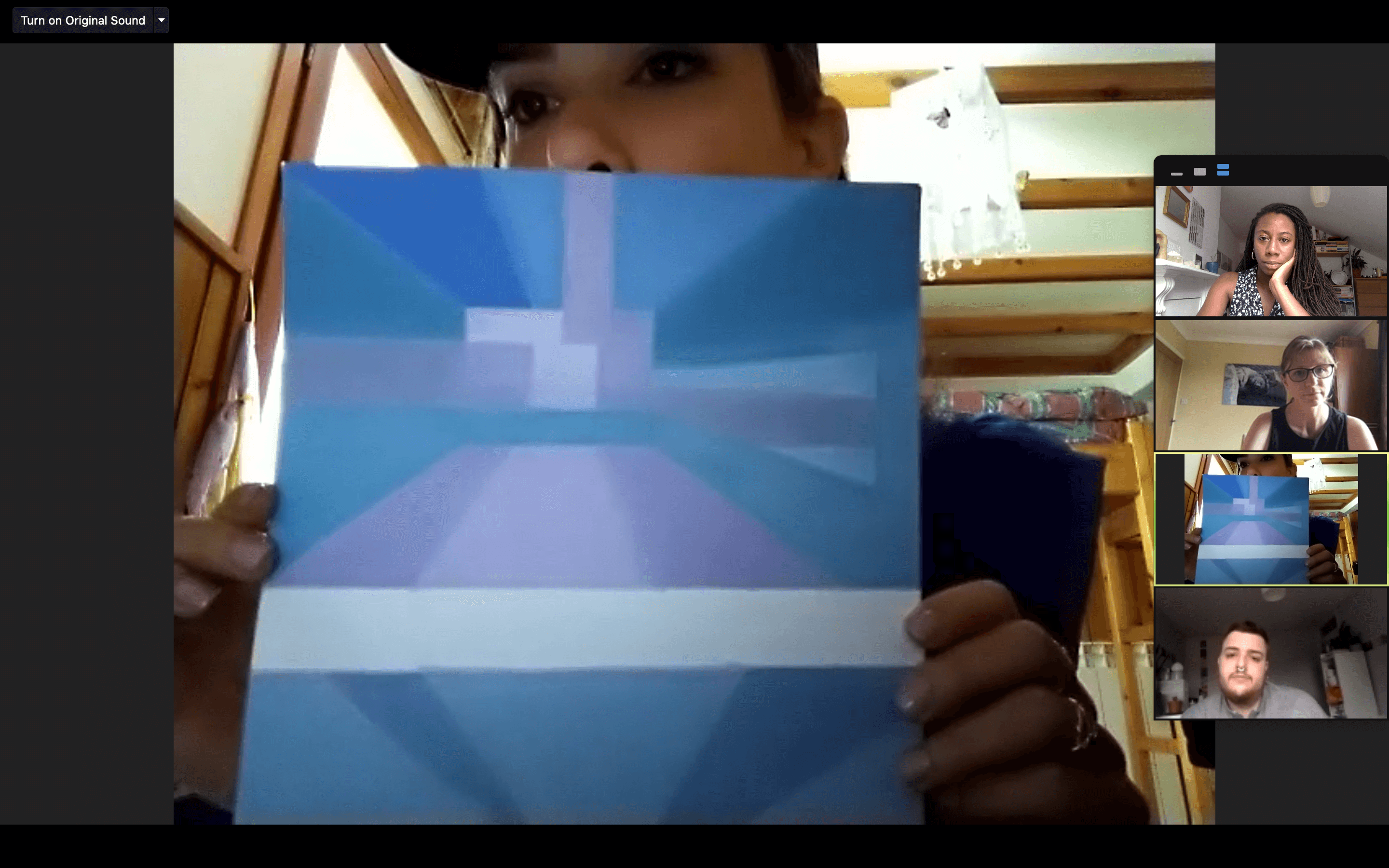 Vanessa also showed us a selection of clips from a larger video project she is working on, she collects 15-second shots of her daily life and the beauty of the world she lives in. The video clips are often taken on a journey, with carefully chosen music playing in the car. As someone of Lebanese descent myself, it's refreshing to see an insight into a Middle Eastern country where there is so much beauty shown. She spotlights the everyday of Lebanon, the architecture, the mountains, the nature. I'm excited to seeing her experimentations progress even further. As a group we discussed online spaces and virtual exhibitions and events, and how the space restrictions of galleries in the physical world provides us with useful guidelines for showing our work, and this helps us to edit and choose carefully what we show to people. The virtual world gives us the opportunity to create things we could only dream of creating physically. It's possible to see the work of artists from all over the world and have interesting discussions with them thanks to virtual spaces and meetings. Although some would argue that you haven't actually seen a piece of art until you've seen it in-person. It's a huge topic that artists are thinking more and more about due to the current situation we're all in. Thanks to Natasha MacVoy, Vanessa Nassar for joining me and talking about your work!
FC Izaac.