It was a real pleasure to see the three artists works during the crit and the session provided a lively discussion across the distinct bodies of work.
Firstly, we saw Adeline McCann's latest work.We focused our discussion on two connected sculptures: Marmi Privacy Screen (2016) and Untitled (2015), see fig. 1 and 2. The screen brought up several interesting questions about fine art's relationship to ornament and design; the complexity and muddiness of taste and its signs; and the potential for the work to be activated in some way. We also raised the question of (manu)facture – that is, how much these objects needed to be 'perfect' in their construction, or how much imperfection could be willfully displayed (such as in stage props or art objects made to look like props).
We also looked at Untitled, which, at first, seemed aesthetically and materially similar to the screen, but as the discussion grew became quite a different proposition. We discussed the tricky relationship between an art work's physical presence – one's encounter with an object in a space – and its mediation through documentation. In this case, the work had a productively ambiguous status. It seems an 'impossible' object – floating as it does off the ground – whilst also promising to be a thing to encounter, beyond the image. Illusion and allusion abound in Adeline's work – marbled surfaces suggesting a luscious and decorative world alongside more austere and minimal forms; these are happy contradictions that create an unsettling tension in the work.
Next we discussed Harold Robson's thoughtfully composed recent photographs. Harold takes images of urban landscapes that he sees in his local environs. We looked at one formally very complex picture of a lake within a park taken with a long exposure at night (see fig 3). We discussed Harold's particular method of image making – taking his time before making a decision to shoot something; how this way of looking first, recording later, seems anathema to the current, dominant trigger-happy, multi-take mode found in social media and beyond. We discussed how there was a great deal of care taken with each image's composition, how this was almost 'classical', but how there might be a shard of awkwardness or 'just-offness' that benefited the work.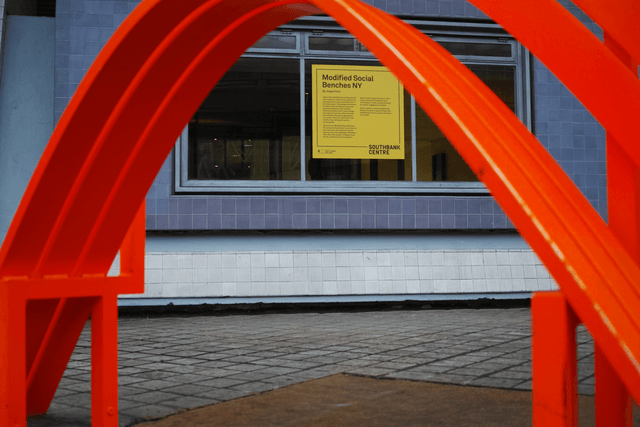 Many of Harold's works were unpopulated which prompted a question about the protagonist-as-landscape. We also discussed his interest in photographing sites he knows well, sites he becomes (overly) familiar with and how this sense of intimacy with or connection to place allows him to see the site as a personalized subject. Finally we talked about the endlessly complex question of public versus private space and how Harold's images propose a series of questions around the thresholds of these often indistinct ideas around space.
Discussing Emily Motto's drawings on paper, firstly we found ourselves looking at the 'nerve' of drawing, how the line engages our attention. Abstract drawings? Figural perhaps. How is this sense of there being 'a thing' established?
Then, there was the question of sculptural work in relation to drawing: is there a 'primary' activity (no, rather not!) and how sculpture might be 'thought through' drawing in complex ways? And of course, the question of scale. The requisite relationship between the scale of surface/space and scale of the mark which occupies it.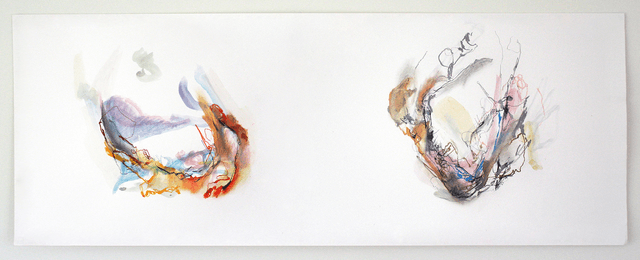 Lastly, the business of 'series' – or more accurately, a repeated activity which is being extended through time (doing it again) and in space (collating drawings together). Here, one wants to think about growth, not repetition, and what exactly is the difference between the two?
More of Emily Motto's drawings can be seen here.
Many thanks to all artists who participated and to Turf for hosting!
– Luke Burton & Anna Salamon