Curated by DAM Projects, with new work by Louisa Martin, Bella Milroy, Jessica Scott
Curated by Morgan Quaintance and Amanprit Sandhu of DAM Projects, Present State Examination is an exploration of the socio-cultural, interpersonal, existential or political conditions surrounding the perception and treatment of psychological, physical and neurological 'illnesses'.
A web-based group exhibition featuring newly commissioned artworks, images and text, the contributors share a belief in the benefits of progressive and alternative forms of care, questioning standard notions of illness, consciousness or disability.
The three new commissions include:
– Louisa Martin's 'SOLA'; the first of a new body of work reimagining the autistic labelled body and laying out a liberatory framework for self-seeing, outside the pathology paradigm;
– Bella Milroy's 'Breakfast'; focusing on experiences of illness and care within the domestic setting, through the stanzas of a poem written by her maternal grandmother;
– Jessica Scott's 'Everything I Touch Turns To Dust'; a zine examining what it is like to live with schizoaffective disorder.
Opening and closing essays by Morgan Quaintance (of DAM Projects) explore issues of neurodiversity and the standardisation of diagnosis and treatment.
We invite you to share your thoughts on the work and its themes via #presentstateexamination, @turf_projects & @turfprojects.
Works in Present State Examination deal with emotional distress and mental health. If you are effected by any of these issues initial support is available through:
SANE
Emotional support, information and guidance for people affected by mental illness, their families and carers.
SANEline: 0300 304 7000 (daily, 4.30pm to 10.30pm) www.sane.org.uk/support
Samaritans
Confidential support for people experiencing feelings of distress or despair.
Phone: 116 123 (free 24-hour helpline)
 www.samaritans.org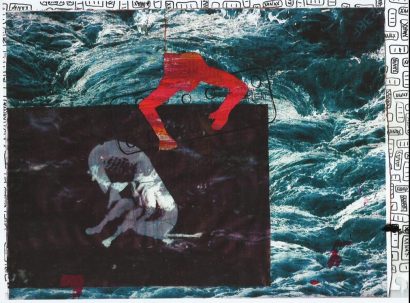 Turf's free feedback sessions are a chance to get feedback on your work from a practicing artist in a supportive & friendly environment. All kinds of creative work are welcome.
Join us for a question & answer session with artists of Present State Examination discussing the project and the impacts of personal work, both individually and politically.
We hear a lot about how to keep our bodies healthy, but what does it mean be healthy in our minds, too?