(The day after the election results)
Robert Lovejoy showed a box of fake clay chocolates and a series of framed drawings. We spoke about playing tricks on people in artworks, through materials and text. Robert told us about the sci-fi, imagined futures and what if?.. questions that are often starting points for his drawings. We talked about how humour and playfulness help him explore difficult feelings and events in his art.
Laughing about things that scare us
Diaries as artwork
Claes Oldenburg
Poetry
Framing as collage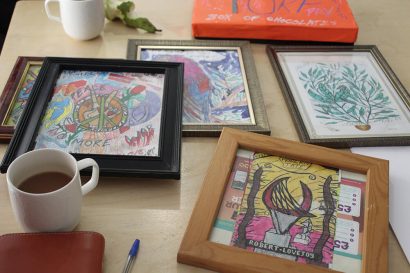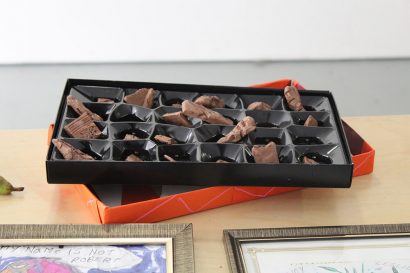 Uma Caruana-Klasson picked up the thread of art as a therapeutic outlet. She showed us a sketchbook densely packed with collected research and diaristic writing about mental health and a recent autism diagnosis, alongside a series of photographs exploring this subject. We spoke about what to do once you realise that the research might be doing more than the thing you were trying to produce (frustrating!).
How could you hold on to the intimacy of handwritten notes in this process of editing and restaging research in to finished piece?
Difficulties navigating mental health system and trying to get treated
Research-based practices
Book held in your hands vs. a wall piece
Text vs. image
Playing with scale as an editing process
The big question of how much to show, how much to keep back
Rosie Mills Eckmire presented some of her curatorial work and some very personal poems which she hadn't shown as artworks yet. We continued our conversation about how to show text as part of a visual practice. We also spoke about having multiple, separate creative outlets and the value of recognising when there are threads that might connect them – suddenly one thing becomes another.
Performing text
Question of authorship/ownership of readings of work
When we need to control the experience of the work and when we don't – how to
strike a balance
Comfort/ discomfort in sharing personal work
Why is it scarier to show writing we've made than images we've made?
Not going to art school
Doing things yourself
Holly Graham showed us some work in progress for a public art commission at a new housing development on the site of a former psychiatric hospital in Croydon. We discussed the difficulties of working with public space and the specific – sometimes problematic – contexts it can present.
How to navigate conflicting interests of the different stakeholders in the work?
Sundials
Making something useful
Working with archives
Combining text with spatial work
Honouring difficult and complicated histories
Critiquing while still offering something hopeful for future residents
Funding
Then we spoke a bit my work. I showed images of the text-based public billboards I've just finished for Fungus Press. We talked about instructions in art, when they might be too controlling of the experience of the work, what happens when they become low pressure suggestions or imaginary what if?.. prompts instead?
Magic
Fantasy worlds
Teenagers
The power of collective imagination
Entering in to imaginative spaces publically, fantasising together
Self-mythologizing
Staging
Text as image
Flora Hunt's Fungus Press residency, 'Sticky Dusty Car Park Witch', is up at sites around Croydon until the 29th February 2020. Turf's next free artists' feedback session will be on the 18th January with 'Technical-Adjacent' artist Ima-Abasi Okon.