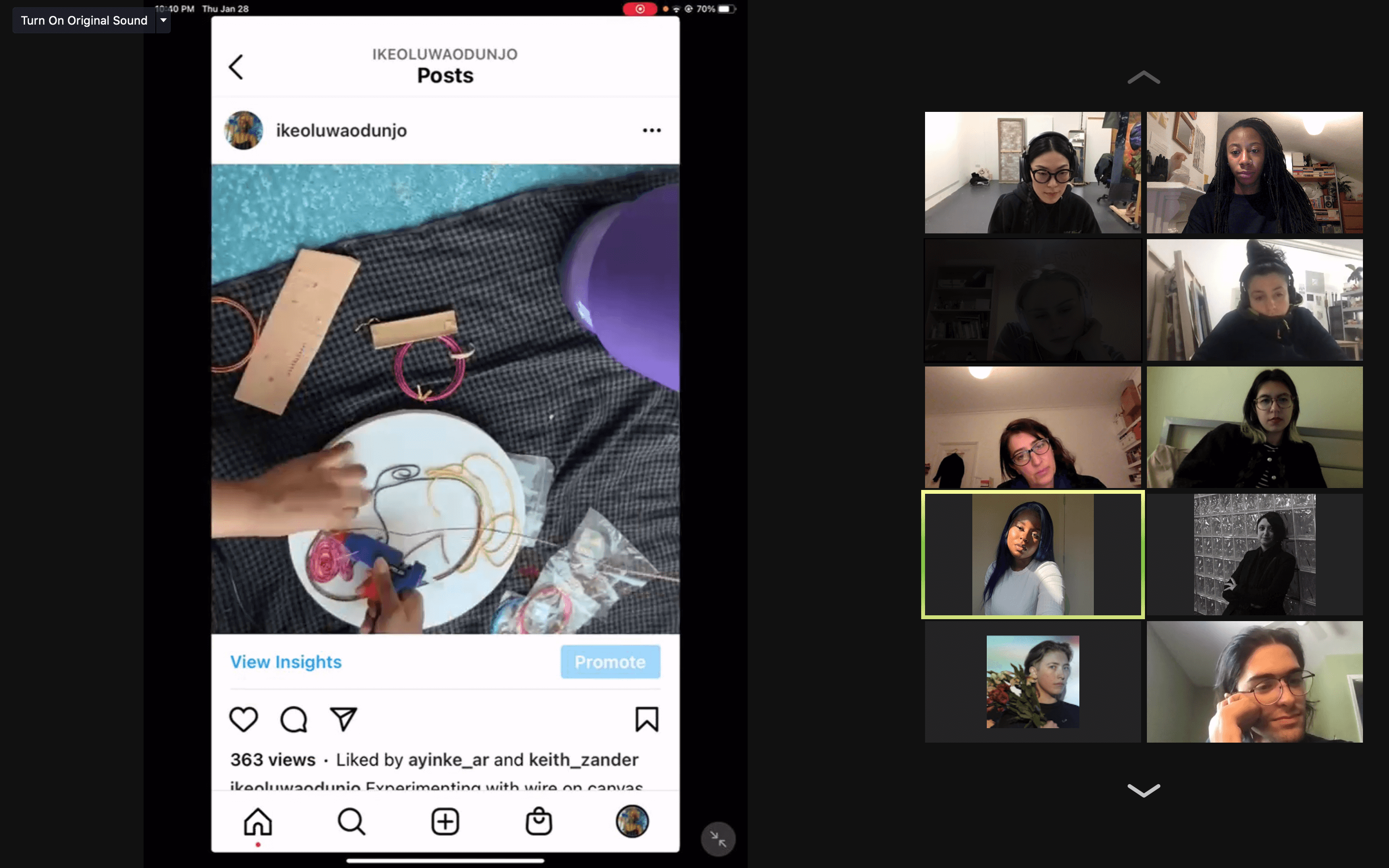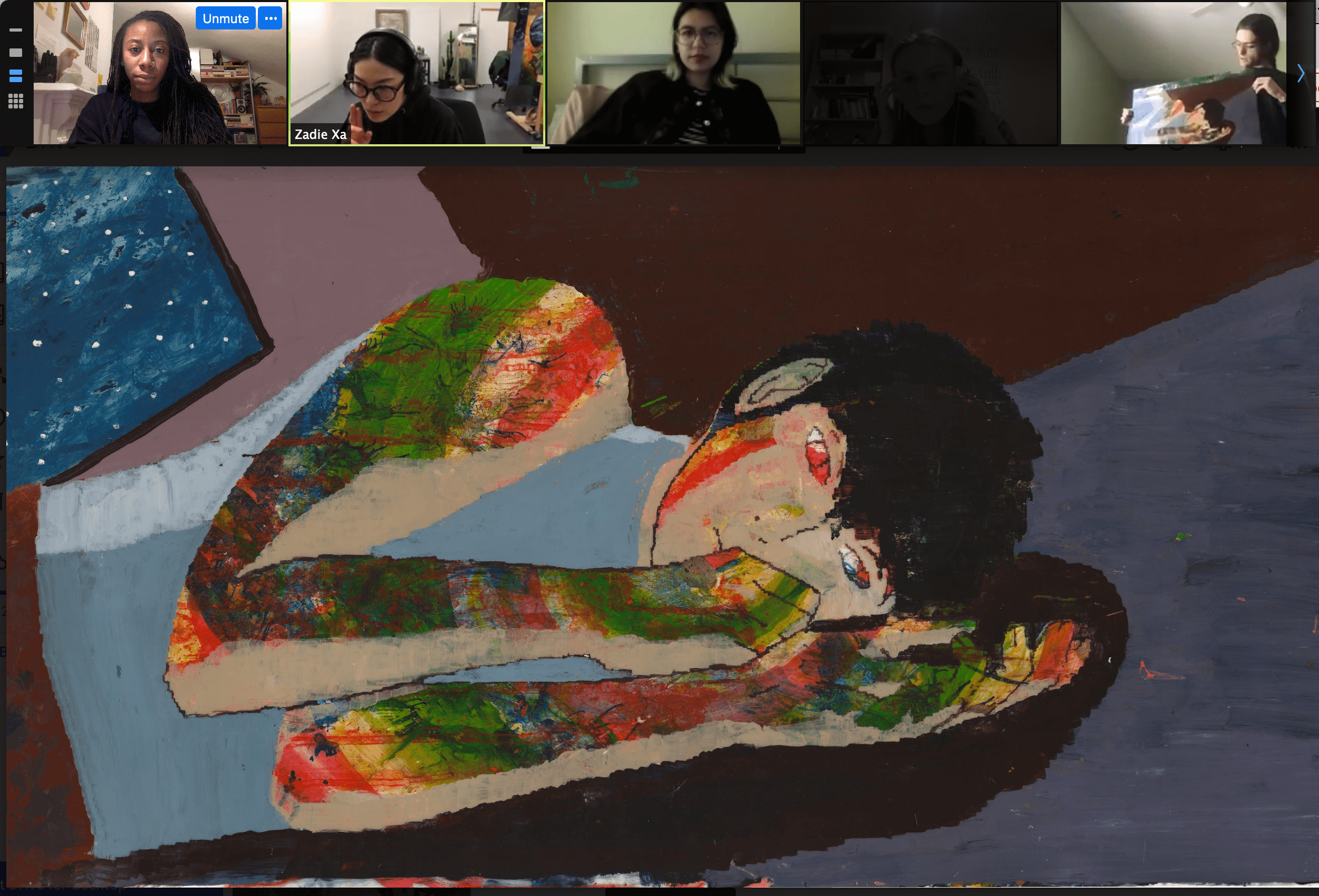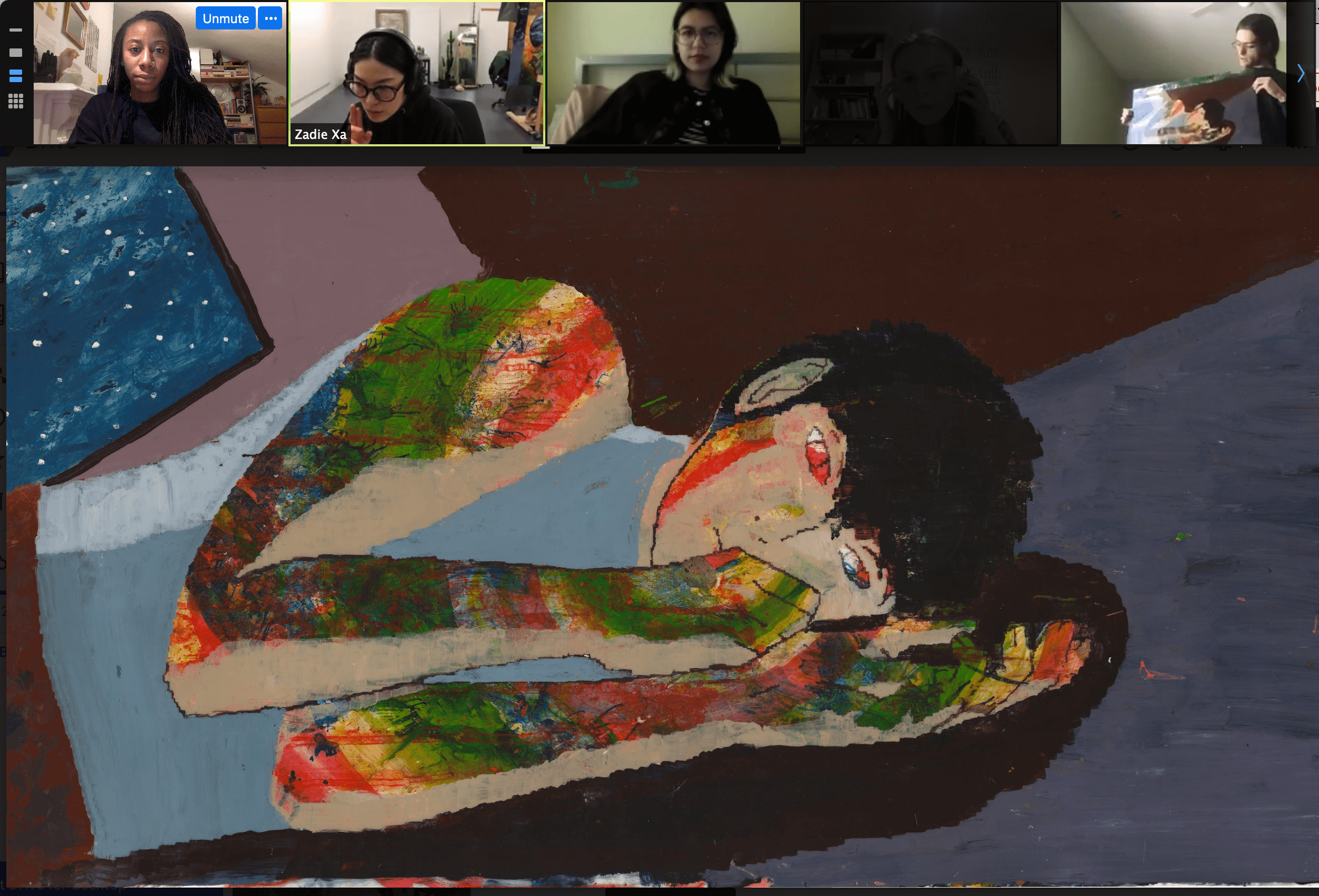 Zadia Xa // Artist Feedback Session
During these past few weeks, I have been feeling overwhelmed with the repetition of daily life, feeling numb and sometimes deeply sad. Here in the UK we sit in what seems like day 10,000 of lockdown and I often wonder if this is ever going to get, somewhat better? Apart from my angsty teenage mood swings I've been keeping really low key and, in the process, seemed to have lost the facility for orderly social interaction.

But I've often had to remind myself that creative outlets of care and generosity can be found, even amongst a group of most strangers. This is where we found ourselves last Thurs, in the now all too familiar digital sphere of neatly lined boxes and talking heads, and how truly wonderful and fulfilling it was.
It seems such a daunting thing to engage in, a public seminar of sorts where artists generously share their work to a peer group of which previous relationships didn't exist. To willingly volunteer to be seen and be vulnerable was really cool and felt intimate and special in a way I haven't experienced for a long time.
The discussion began around artist Lauren Conway's beautiful and carefully constructed black and white drawing of a public bathroom. The audience faces two industrial dispensers, on the left condoms, and the right tampons, with two toilet stalls flanking either end. The drawing was pinned onto of a white wall decorated with stucco waves, and it felt as though we were looking into a window. Lauren spoke about her interest with familiar, local public spaces and how they could be sites of transgression or unexpected events. Or rather this is what I understood. I was interested in her fiercely observant inspection of these spaces and the decisions made to translate these photographs into pencil drawings. I am always curious to know what the impetus to make an already existing photo into something else is. Sometimes a drawing of a painting expresses a much deeper outlook that a photographic snap. This recreation of a physical space was also in some ways a reconstruction of an intangible memory, perhaps linked to childhood or adolescent experiences.
As time was limited, we were only able to look carefully at this one work, however the takeaway from me was how she might present these drawings irl. The spaces that hold these images seem important and perhaps it would be good to think about these works within site specific moments in physical architecture, surrounded by other drawings and images to see if new connections can be made by thinking about the works in tandem within others.
Noah Parslow joined us from New York! They had a plethora of drawings and paintings to share and had categorised these works into two groups. One set of images were figurative with much of the imagery taken from other young artists who upload their works on DeviantArt, an online art gallery and community. The others were, in his words, more abstract.
There was much discussion around appropriation and consent. Artists have been copying, borrowing or stealing from one another forever. Richard Prince was briefly mentioned as was the NYC based artist Jamian Juliano-Villani. Both artists take existing images and incorporate them into their own works. However, in the context of, say Prince, the problematics or touch points revolve around issues of consent and power dynamics (ie: his Instagram series). So what are the boundaries of appropriating found online imagery, the artworks of other artists, particularly children? It was a really fruitful conversation and one that the entire group became active in. A general consensus was the issue of power. It somehow feels less wrong to reference and appropriate the works of popular artists as boundaries of ownership or "original authorship" are more evident. This topic was a major talking point that required much longer than we had, it also took away from looking at Noah's actual artwork, which was hugely varied in technique, speed and colour. He spoke about transformation and community which also struck me as interesting and I wondered how they imagined their work to live in the world. Pictures of other pictures, taken from online galleries and then later fed back into that system maybe? Regardless of all of the other stuff we talked about, I was interested in Noah's motivation for creating work, he seemed to be concerned with creating connections with other people who may have had similar experiences in life as he did. A grouping of artists creating, sharing, stealing and giving right back.
Ikeoluwa Odunjo entered the chat from Dubai having just relocated there from Leeds. She had just finished uni at Leeds Beckett and was feeling a bit stuck with what her next plans regarding art making would involve. New methods of production and creative output were needed as she was finding herself in a landscape where some of her previous work could be censored. And although Ikeoluwa might have felt stuck, the body of work she shared with the group was excellent. A mixture of painting, mixed media, beadwork and photography with a focus on portraiture and African spirituality. In some of these works she would appear as the goddesses she was highlighting and referred to it as a kind of cosplay. Ikeoluwa expressed a strong desire to focus on imagery that centred aspects of African culture, as she aptly put it, "so many of us are familiar with Eurocentric myths and gods" so why not shift the narrative? I concur.
With all this talk about what the images meant, we moved onto how they were constructed. The contrast of beading and mixed media against painted ground was really beautiful, but I am always soft for tension in layered textures.
There is a real sense of play and performativity within Ikeoluwa's pictures which I think could be explored further, mainly because I would love to see more. Some video work in the future perhaps?
And finally, we learnt about Karolina Ptaszkowska incredibly dense, immersive narrative and painterly works. Much of what was presented were layered paintings on thin, flowing fabrics that drape down gallery walls like curtains or extensions of architecture to create dreamy theatrical sets. I couldn't help but think that a lot of her installations would make excellent sites to stage live performance or filmed video sequences. She is currently preparing for an exhibition which I think will be really good for her to see all the works in one gallery to better see how all of these works intersect and produce unexpected moments or new unforeseen narratives.
Karolina also just completed an incredible digital work which presents itself in the form of a layered website replete with drawing, and images of her paintings and text. I was really impressed with how the audience is led through the pages of the site through a winding narrative (influenced by her interest in Sci-Fi). It struck me as an excellent way to create work for an online experience, something that was crafted specifically for the digital medium rather than a simple document of work presented on a screen. It gave me pause to think about the rapid ways artists are having to engage with presenting works while we are having to navigate these new ways of exhibiting and creating.
Thanks to Zadie Xa for leading this session. Our next Artist Feedback Session will be on the 24th of February, with upcoming Fungus Press resident Derica Shields. Find out more and book here.