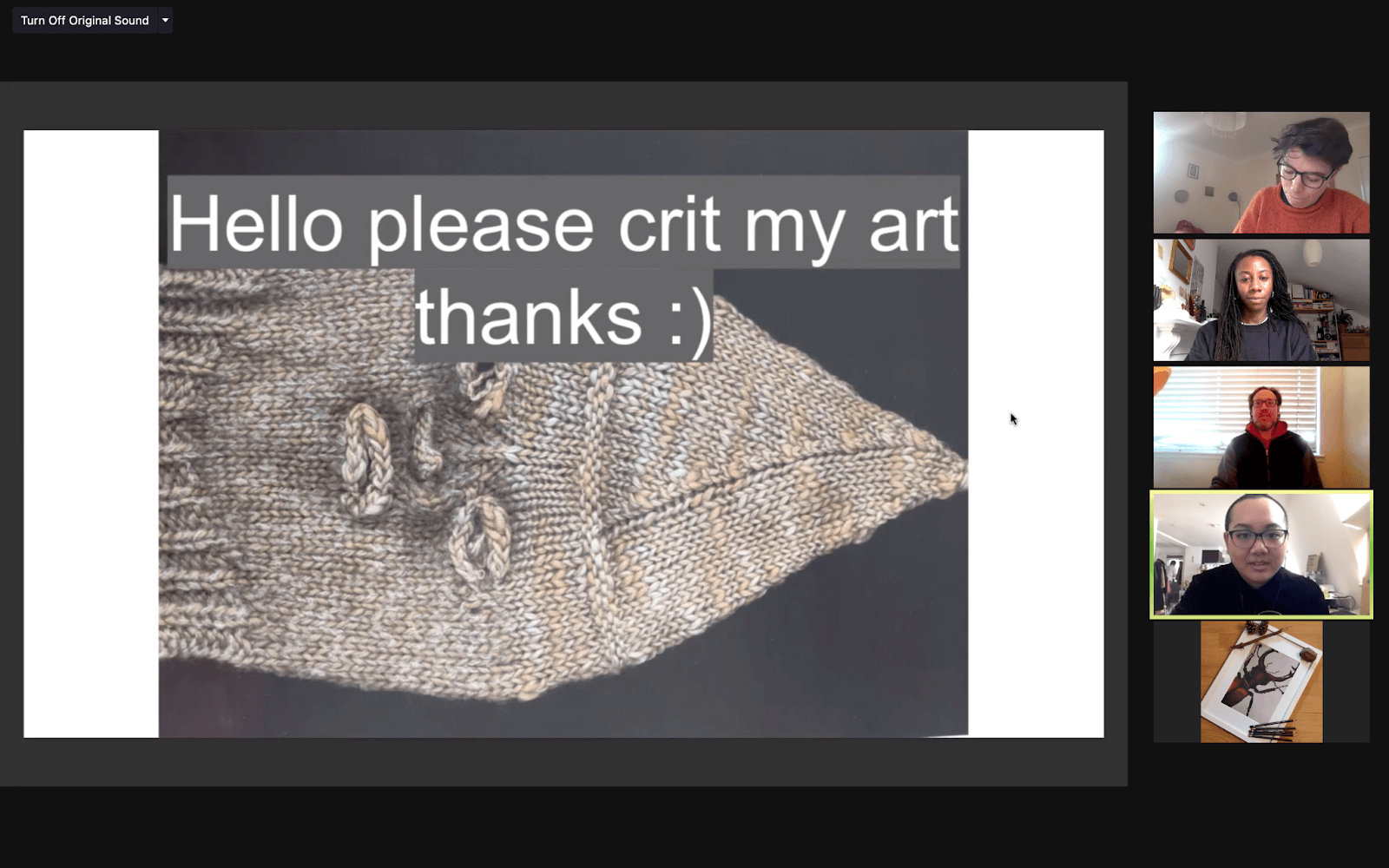 Time, Gender, and Moss: Artist Feedback Session Led by Lily Ash Sakula
Last Thursday was my first time ever leading a crit and I was a bit nervous. But I really enjoyed the opportunity to chat with the artists and Turf team and have some in-depth conversations about time, abundance, gender and (of course) moss.
We started with a series of photographs by Nate Love, who zoomed in all the way from California! These photos are part of a book he is making about the lockdown, where each week he takes 9 photos of the areas around his home. The first photograph we looked at was the playground he takes his son to everyday: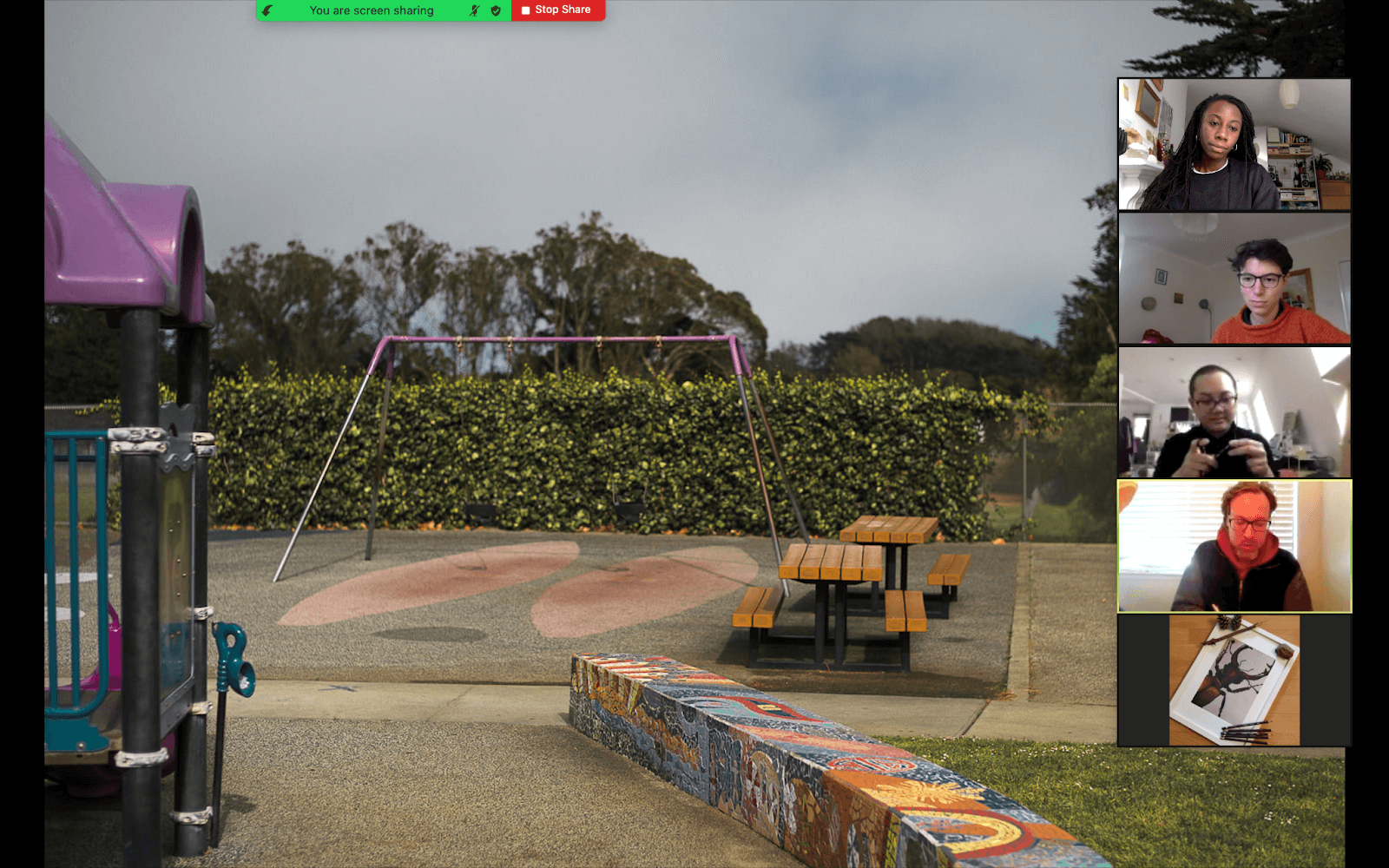 We were interested in the eerie almost unreal atmosphere that the shallow depth of field evoked and talked about how it added an extra level of stillness to an image that is already ghostly. We discussed the sense of time passing highlighted by the vegetation, and were reminded of the UK lockdown where swings were removed and playgrounds fenced off.
The unceasing empty sameness of lockdown, in which time loses all meaning, was also captured in Nate's picture of a San Francisco street scene: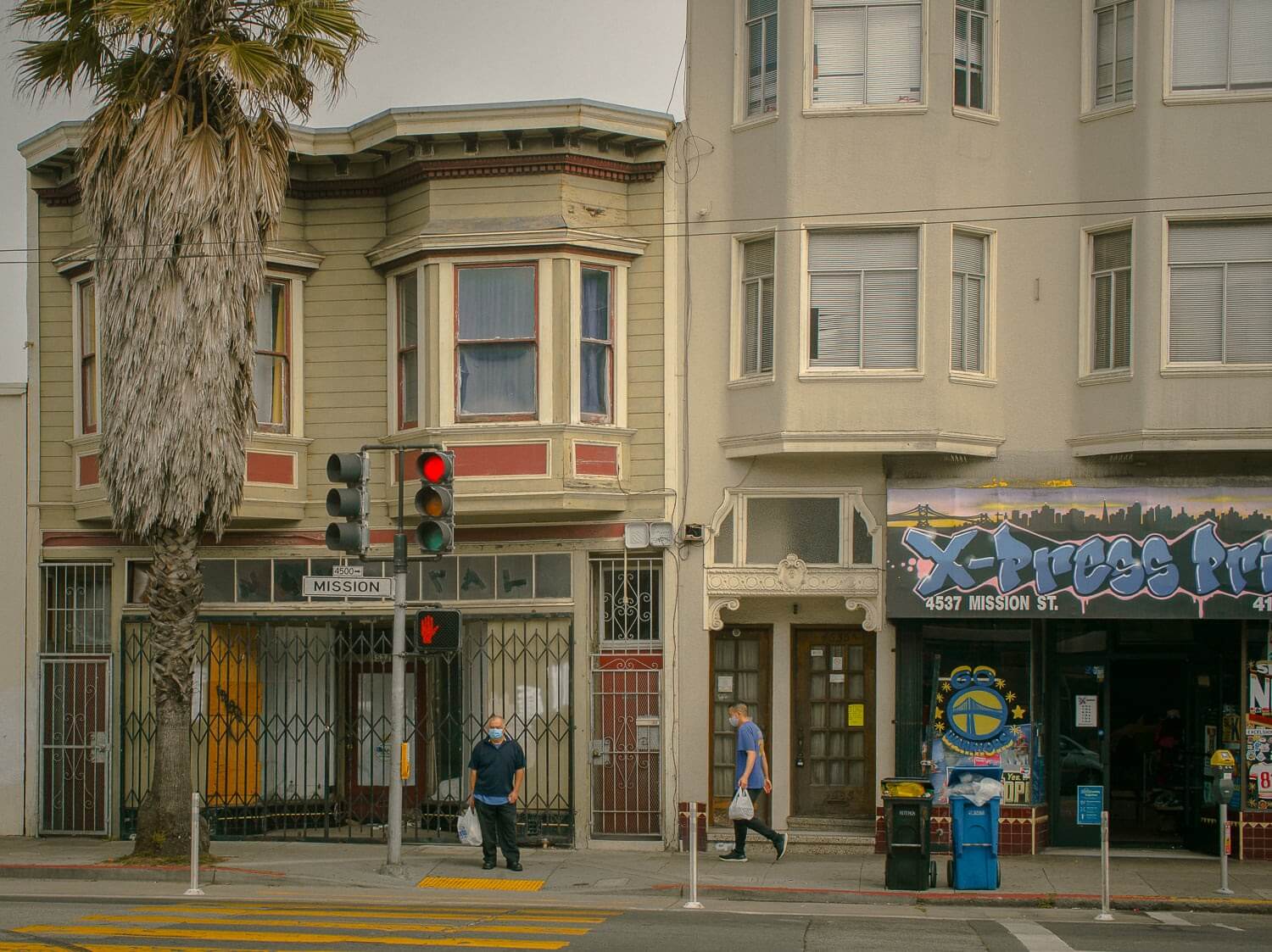 Nate told us how he had just going to snap the person standing at the lights when serendipitously the other figure, with matching mask and bag, walked into shot. We spoke of how the doubleness of the figures, mirrors the asymmetry of the buildings, and the old versus the new. We also enjoyed the pops of primary colour, and the sense of a street that extends beyond what we are given.
Finally we looked at Nate's black and white naturescape, in which abundant greenery almost obscures the tiny "do not" sign. We discussed how this adds a touch of humour to the seriousness of the monochrome. Nature, in its wild abundance, does not care for the "do nots" of our puny human laws. Nate, explained he was originally aiming to capture the diagonals of the pines higher up but when his eye was caught by the sign and the light on the weeds: another moment of serendipity.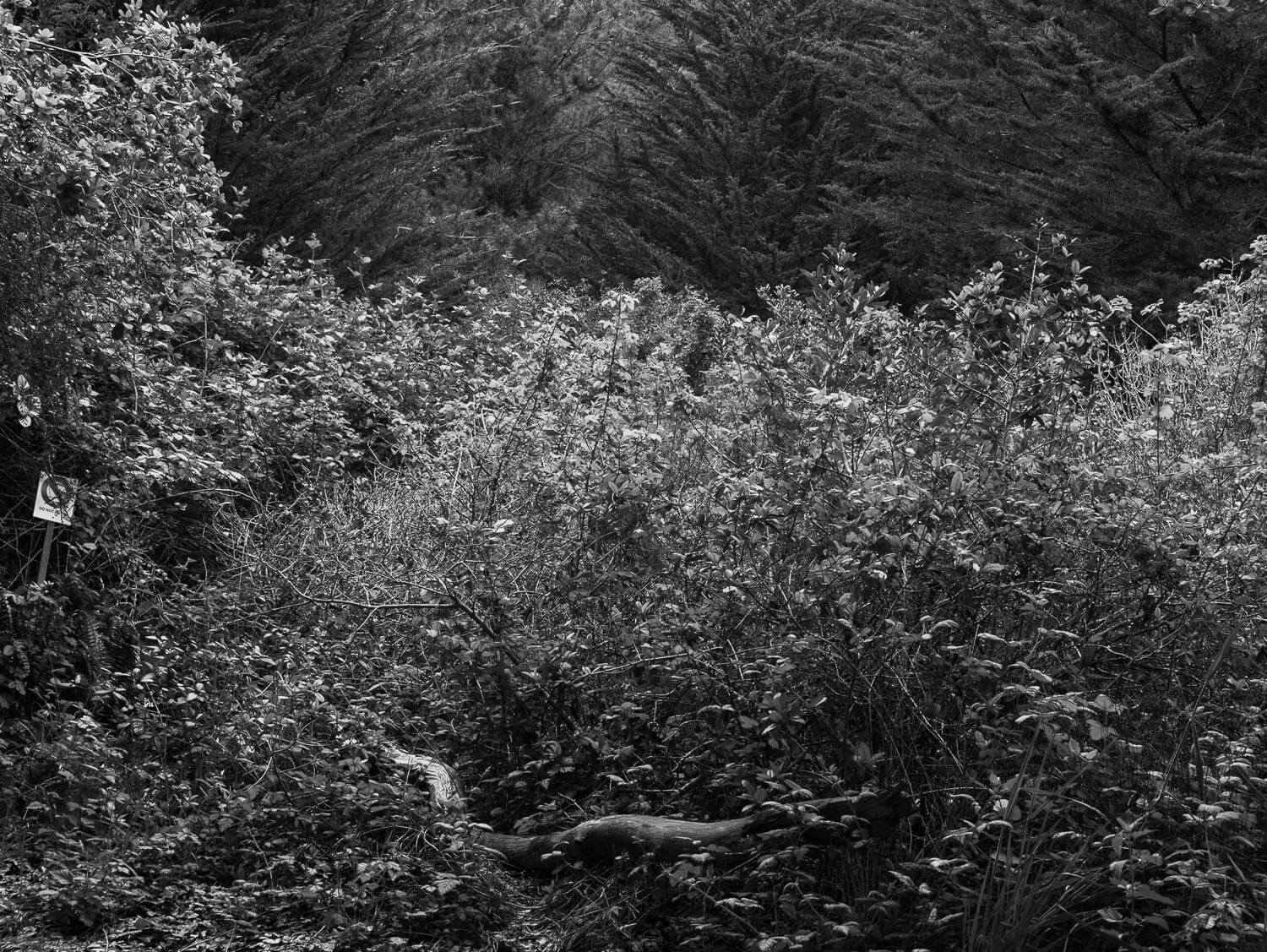 Next we looked at Pear Nuallak's installation that they have been working on for their degree show. Their practice delves into hand skills, textures and materials with what they describe as "performance traces".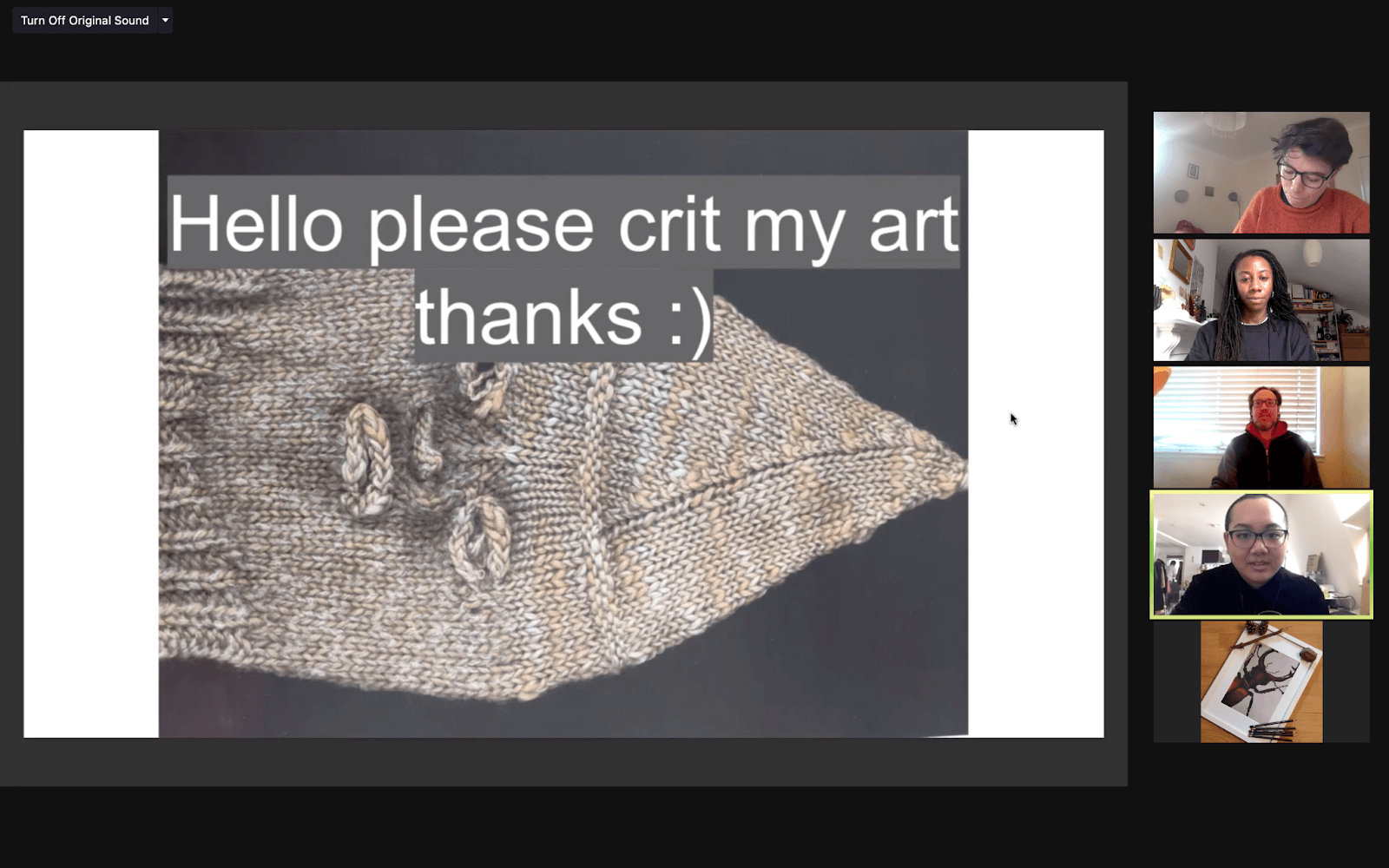 They had knitted a mask based on a 90s pattern which was revival of a 70s skiing mask, the photos of which are frankly terrifying: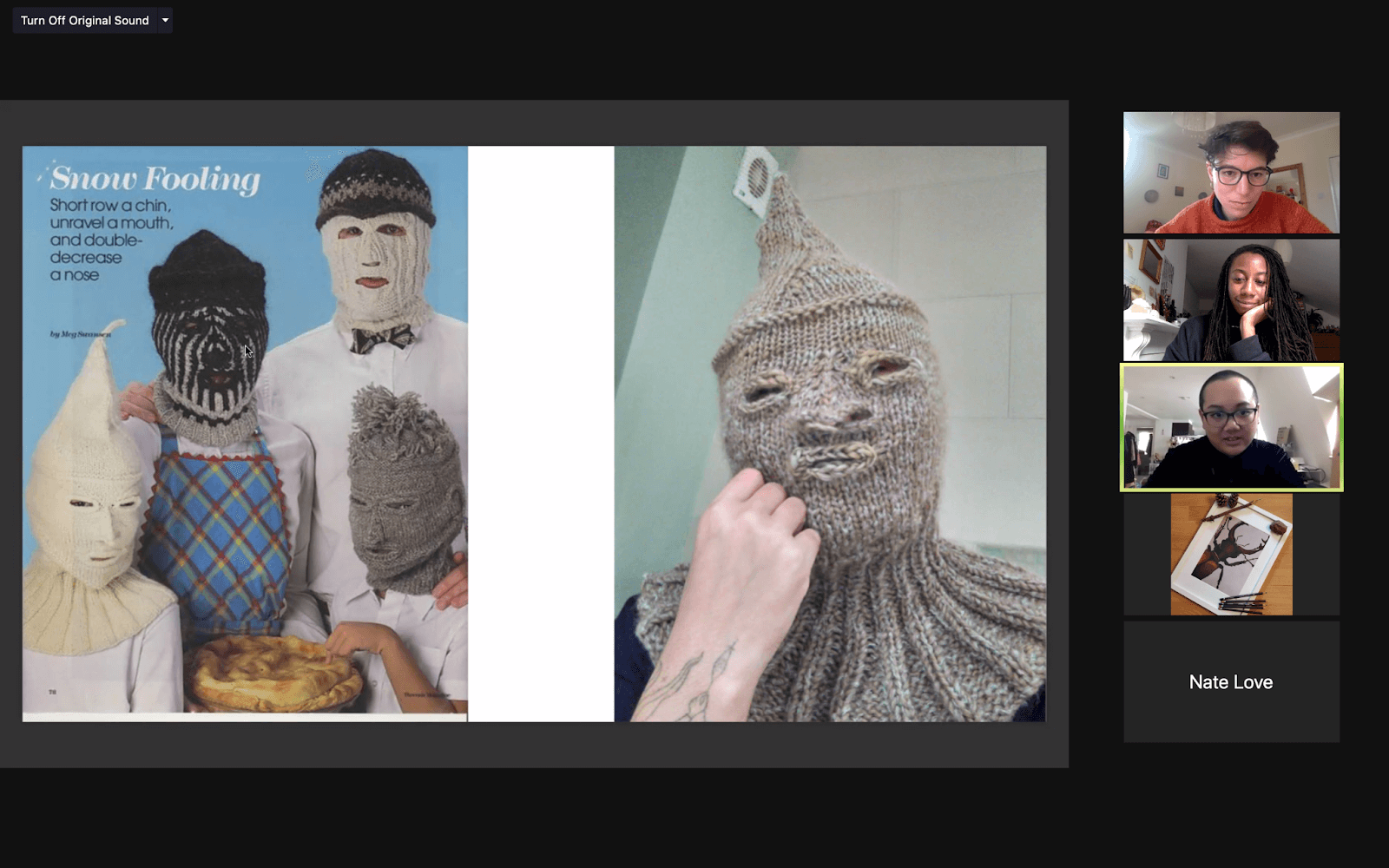 They then placed the mask in relation to its detritus to highlight the waste generated by knitting and alongside what Pear described as stuff found in the "vertices of the world": photographs of moss and litter from their local Morrisons car park. The hand you can see touching the moss in the photograph below is a plastic one they always carry with them. Pear wants to touch the moss when they see it but the grossness that gathers in these interstices necessitates the distancing of the plastic hand. What is the importance of touch? And what of the importance of not touching? How does touch impact on work that is both textural and intimately connected to one's body?
Through their research Pear is exploring how knitting exists at the intersection of consumption and leisure and how it has varied massively in form and technique across time, gender and class. And yet its portrayal on social media is often completely homogenous in its whiteness and assumptions of cis-heterosexuality: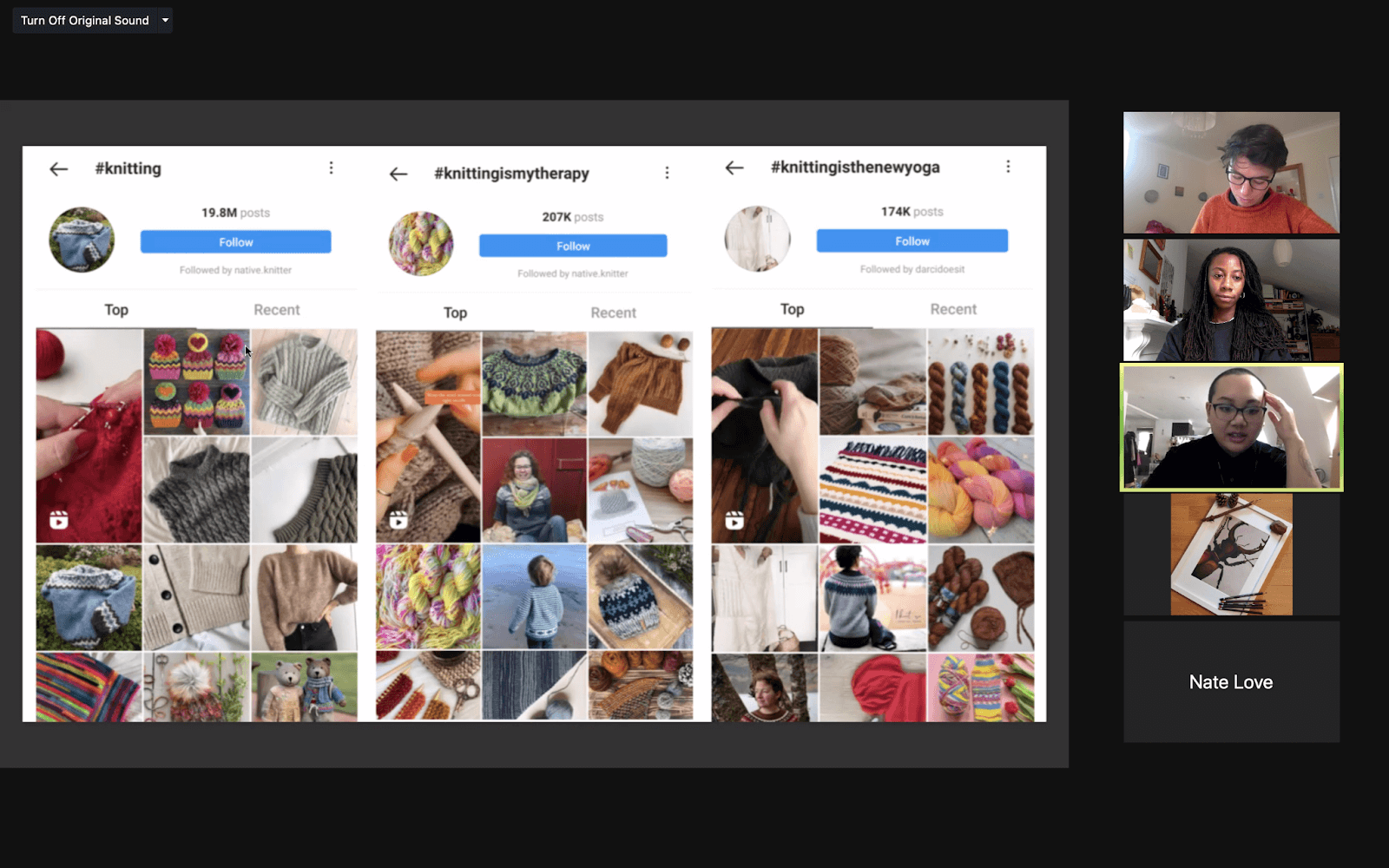 What does it meant to knit in a queer body? If you knit at a drag show is automatically a performance? Pear's research is extremely thorough, they had too many amazing facts about knitting and moss to fit in here, but I suggest seeking them out if you want to talk about these things (and trust me you do!)
In their installation Pear has knitted this wide range of objects, images and research together through their mask's "performances" in various settings: outside on a log, in their bed, on a wall, inside a photocopier, with fingers poking out of its eyes and mouth…
We talked about where the project could go next: what are the interactions between knitting and moss? A shared protective quality? A tendency to tangle? Could moss be ethically grown? Or photocopied? What performances could take place in the mask? Could a radical knitting zine disrupt the homogeneity of instagram? Further research into information sharing and the parallels between early knitting guilds and the early internet?
It was a fascinating couple of hours and I can't wait to see and hear more from both these artists.
You can see more of Pear's work @pearpiesyrup on instagram
Also in attendance:
Jo Brown
Jhinuk Sarkar
Holly Graham