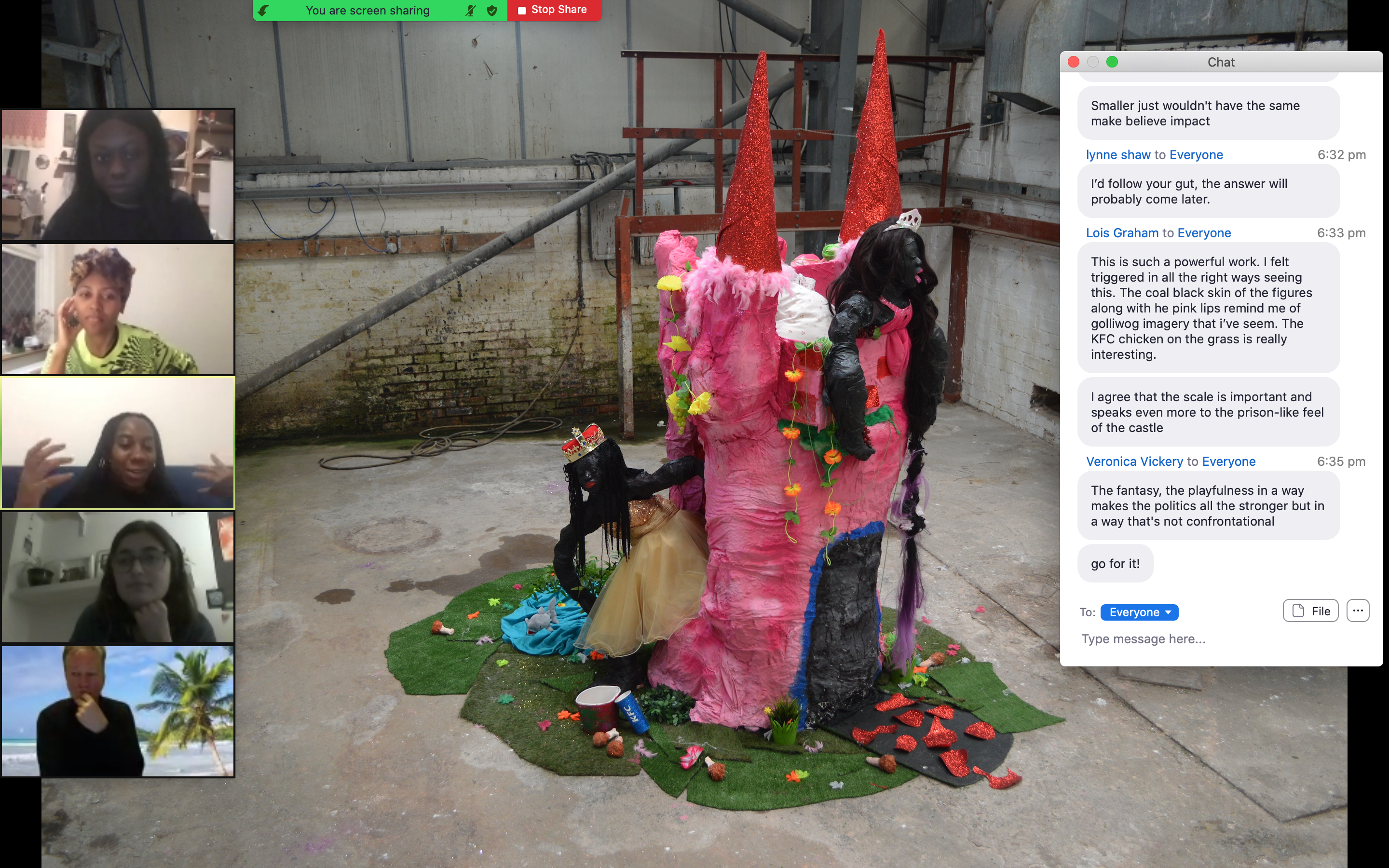 Derica Shields // Artist Feedback Session
This Wednesday in February, under the ongoing government stay-at-home order, we introduced ourselves and I said a bit about the space I hoped we could foster together. We were twelve. The three artists who had come to share work presented one by one and we discussed and daydreamed.
KEITH POINTING
https://www.instagram.com/keithpointing/
I was curious about the treatment of time in Keith Pointing's painting 'Paradise Prorogued' for a few reasons: swooping crows and their mythical association with death or travel between dimensions; Keith's use of flatness or shallow depth; a sense of delay or pause in the land/cityscape; the word 'prorogued' in the title –paradise discontinued?
Daydream, these buildings are flower-height and what is the time of flowers taller human structures? Is this an abandoned city, and who were its builders or inhabitants? Can I ask the time in a dreamscape, and if I could why would I? A relief to be on hold before the call to state my case.
We went on to another playful painting titled 'Looking at You'. A painter in the group asked why this work suggests a continued row of flowers on the left edge but introduces a gap between the flowers and the edge on the right. Keith explained that he was more interested in hearing our responses to the paintings than in sharing his goals or intentions because with painting, unlike in his day job, he affords colour and paint primacy over language.
JOSEPHINE KAY-OGUNSOLA
https://www.instagram.com/josieko_art
Josephine Kay-Ogunsola's photographs of the large-scale sculpture she is preparing for her graduation show opened an exciting and excited group conversation. As we looked at photographs of the work, Josephine explained that a couple of friends had mentioned it evoked gollow*g imagery for them; this opened the question of how Josephine could create her character, Coal Black, without recalling that racist imagery. Josephine also shared the origin of the character: when a teacher said she couldn't play Snow White in a school production, Josephine's mother invented Coal Black and made costumes that let Josephine play out her princess fantasy.
With this story of transformative play in mind, we commented on the strength of Josephine's decision to make a large, towering work that would ensconse viewers in the world of the piece. The group was also enthusiastic about Josephine's use of papier maché and saturated pink, evoking the self-made epic worlds of childhood dreams.
Daydream the two, or is it three, faces of Coal Black lovingly dotted with pink lipstick kisses, traces of affection that mark these faces with adoration, the figures' own experiments with colour. A work that doesn't chase institutional perfection is just what's needed.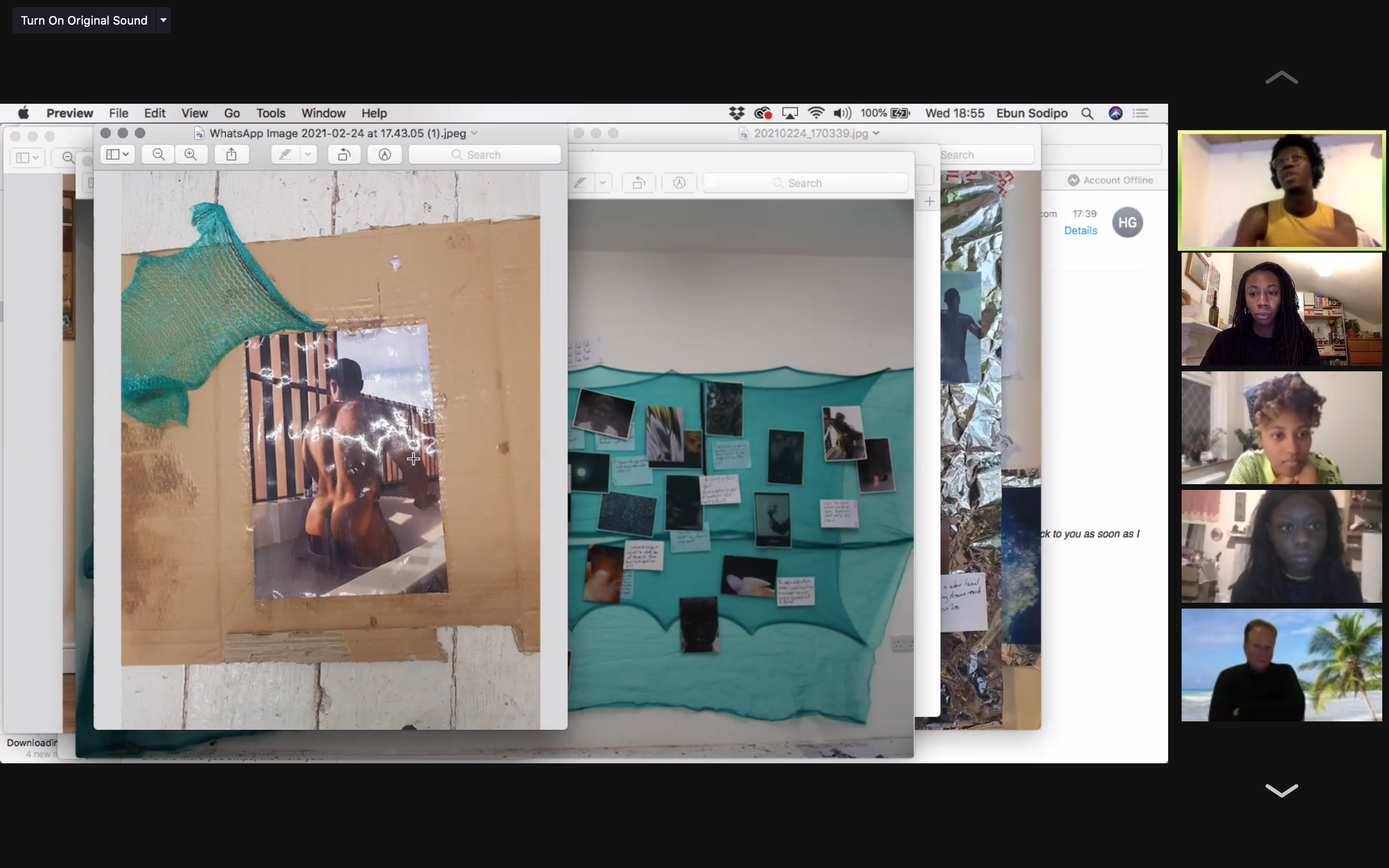 EBUN SODIPO
https://www.ebunasodipo.com/
Artist and writer Ebun Sodipo shared photographs of a number of her large collage works. In them, each handwritten text and printed image of Black maternal figures, including Beyoncé and Marsha P. Johnson, is a fragment and a keepsake. The way these keepsakes are held together by/enmeshed in green scaffolding sheets (a fine mesh that construction workers fasten to scaffolding to protect themselves and each other from falling debris) or placed on the foil the rescue blankets used in first-aid for shock or hypothermia speaks to caring embrace, what catches you in freefall, the comedown after emergency. A number of us made connections between Ebun's work and Black American women's quilting traditions that use figuration and symbology (Faith Ringgold, Harriet Powers) and abstraction (Gee's Bend quilters). We talked about how these works might be shown in a gallery, some pinned against a wall but others suspended in the middle of the space so that we can walk around and among them.
Daydream we wear these works wrapped around. Make beauty out of emergency materials; make each other same time. Draped in them we pride through someplace verdant or a Cauleen Smith film. If wrapped means protected it also means restraint, so we make heart maternity; extend from what is given and fashion a love.
*
Also in attendance:
Melise Bicep
Lois Graham
Uma Caruana-Klasson
Lynne Shaw
Rana Kadry
Veronica Vickery
Lily Ash Sakula
Holly Graham