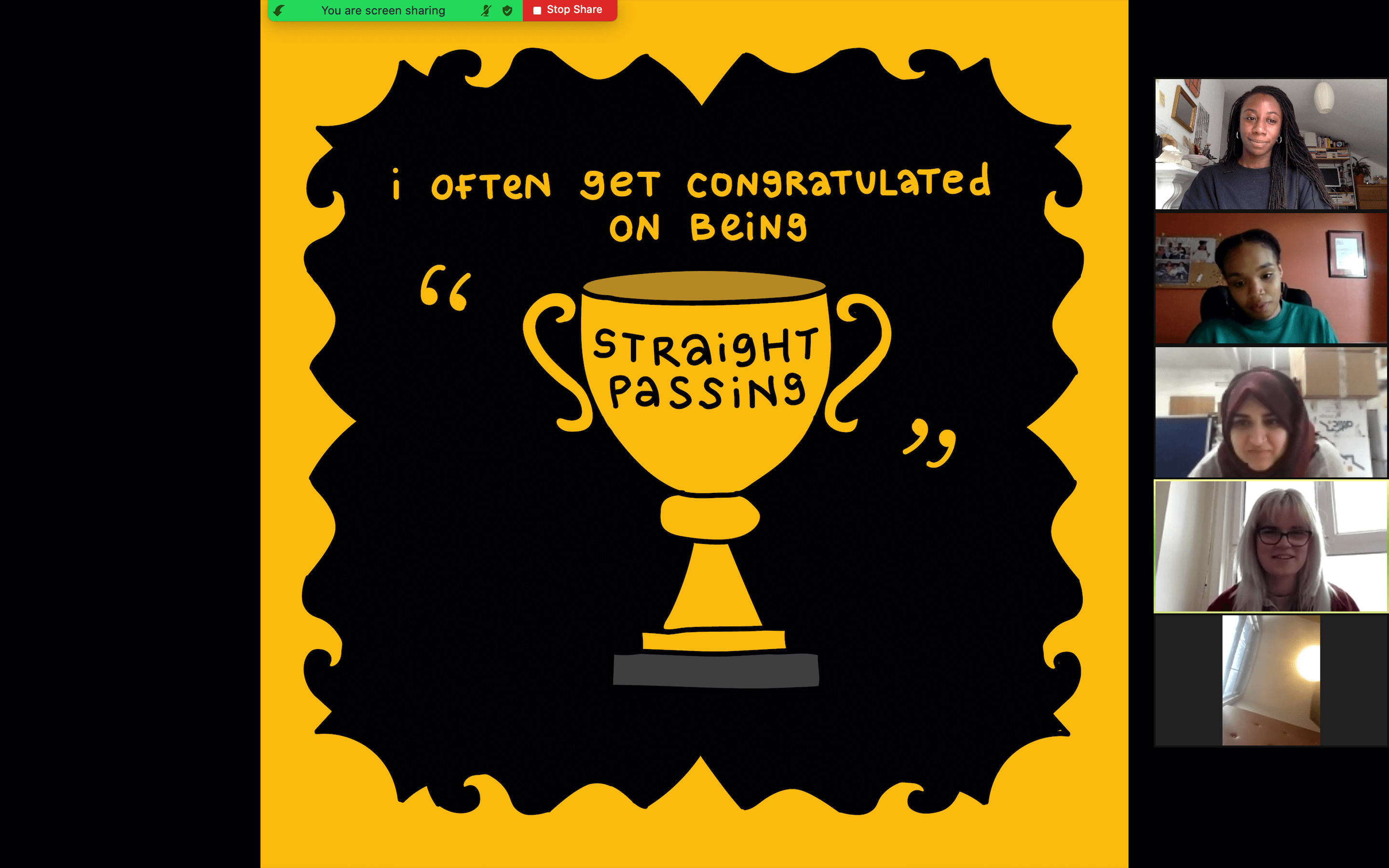 Artist Feedback Session // Led by Asha Fontenelle
Last Thursday was my first time leading an artist feedback sesh over zoom. I had fun meeting and discussing art with some fellow artists and it gave me some inspiration to try some new things in my own practice. In this post I will list some notes I took during the session and I will outline some snippets I remember of our conversation.
I'd like to thank all the artists who showed up and shared work! I appreciate your input, and there was some amazing work shared and great questions asked!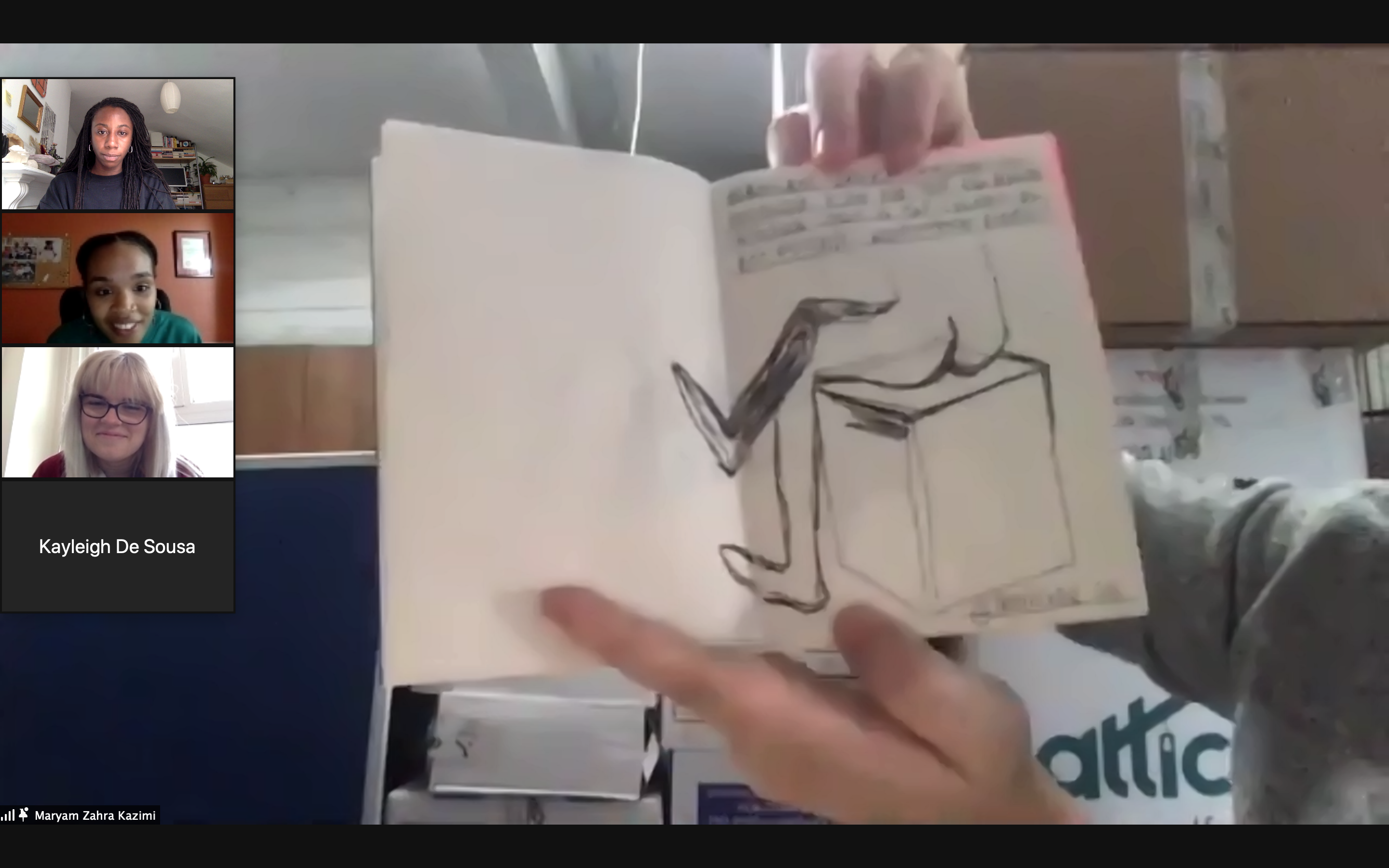 Artist Feedback Session, led by Asha Fontenelle at Turf Projects (April 2021). Image © Turf Projects
Maryam shared a vast array of work from small scale line drawings in a sketchbook to massive paintings that covered vast amounts of space on a wall.
Notes: Eclectic, large/small develop(ing) observational abilities, processing, screenplay, image gathering, understanding others, dimensions, illustrative, visual, fine art degree, crumpled up can.
We discussed the process of approaching works of differing sizes and how lockdown has affected how Maryam approaches her practice.
Instagram: instagram.com/_maryamkaz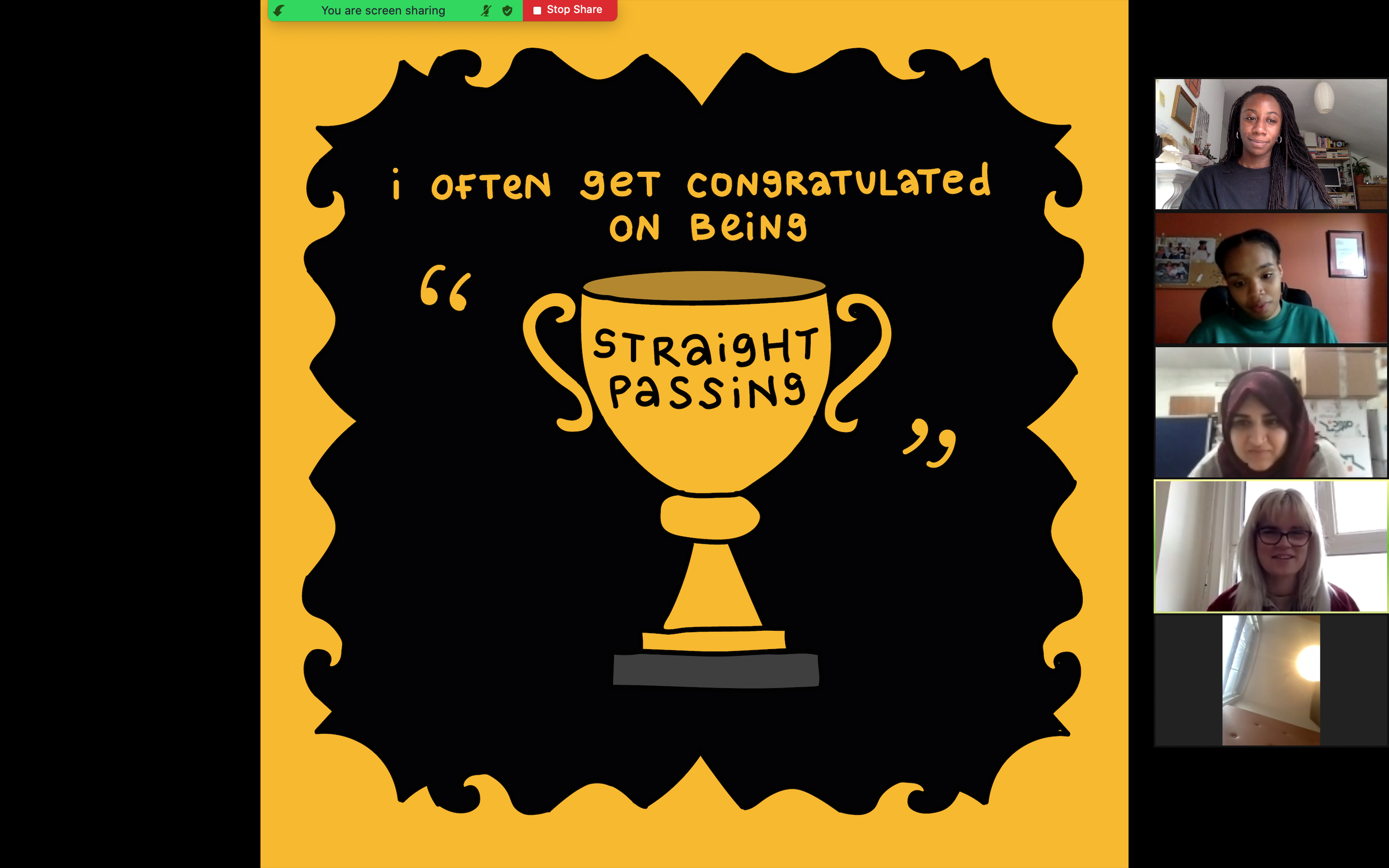 Artist Feedback Session, led by Asha Fontenelle at Turf Projects (April 2021). Image © Turf Projects
Poppy showed us some bold, colourful digital illustrations that speak to her identity.
Notes: Stylise, projects, identity, range, trackpad, playful, LGBTQA+, youth groups, running activities, blocks of colours, finding tones, mistakes, not knowing, trying something new, line quality.
We discussed how she navigates the theme of identity and noted an interesting contrast between the depth of the subject of identity and the lightness/playfulness of her pieces its depiction. We were amazed to find out the digital illustrations had been created using a trackpad!
Instagram: instagram.com/poppyfash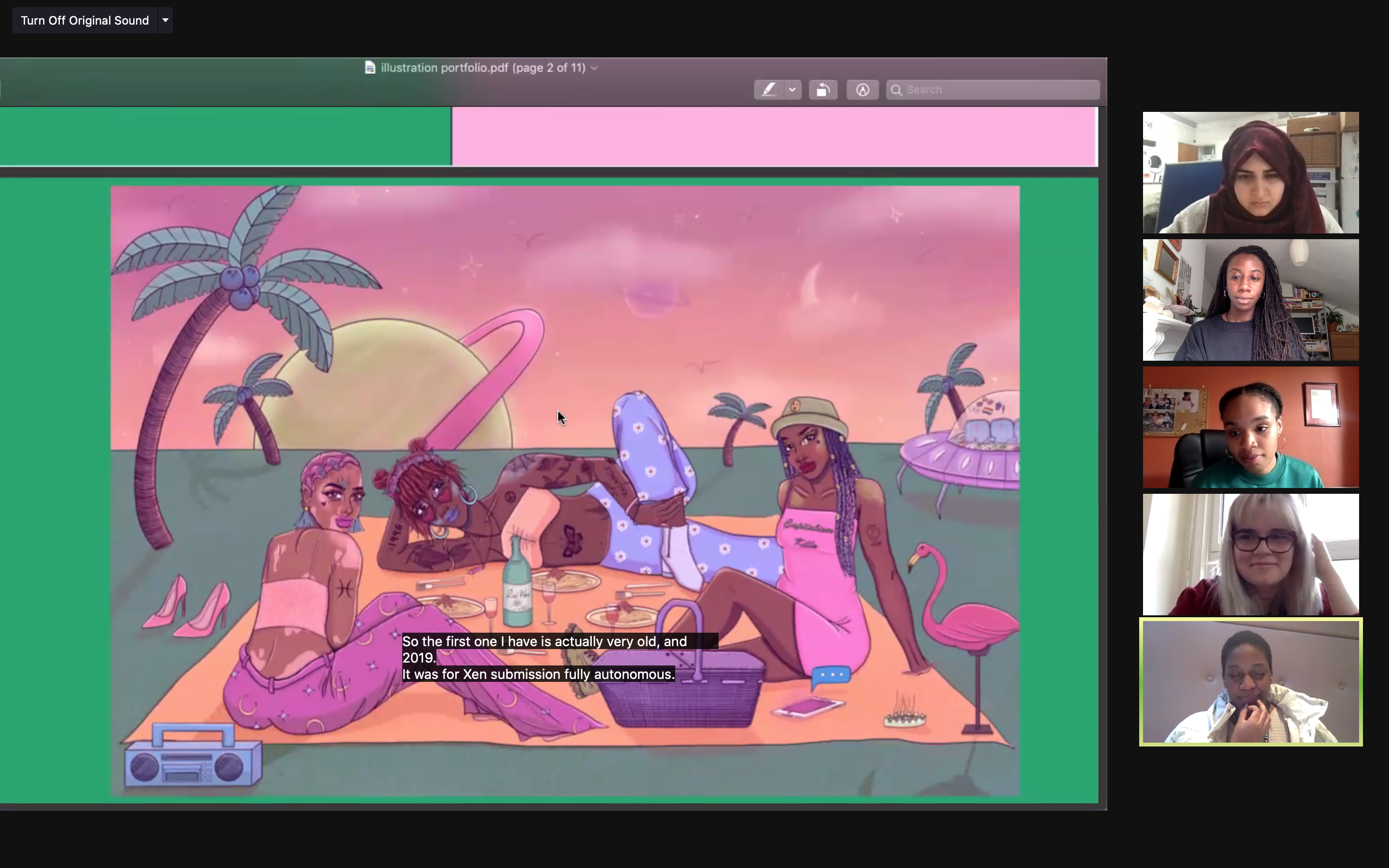 Artist Feedback Session, led by Asha Fontenelle at Turf Projects (April 2021). Image © Turf Projects
Kayleigh showed us some digital illustrations with an immense amount of detail.
Notes: Colour wheel, colour scheme, WOC, detail, time consuming, choosing what works and what doesn't, commission, collaboration, zine, Illustration degree, graphics, self- belief, cohesive body of work, creative.
We discussed how she chooses her colour scheme and how long it takes to complete the high degree of detail within their work.
Instagram: instagram.com/postgap12
Kayleigh, Maryam, Poppy and I discussed the contrast between Fine Art and Illustration, and how they'd define their work in relation to this. We all considered ourselves artists as opposed to Illustrators.
As well as helping to facilitate the conversation, Holly showed us a window instillation and a corresponding sound piece that accompanied it recorded in collaboration with her sister.
Notes: Background in printmaking, window, Transatlantic slave trade, ship, water, stories, personify, sound piece, imagery, outsource, audio component
She spoke of her printmaking background and how this informs her work today and the processes she goes through to complete a piece.
Instagram/Website: instagram.com/hollycagraham / www.hollygraham.com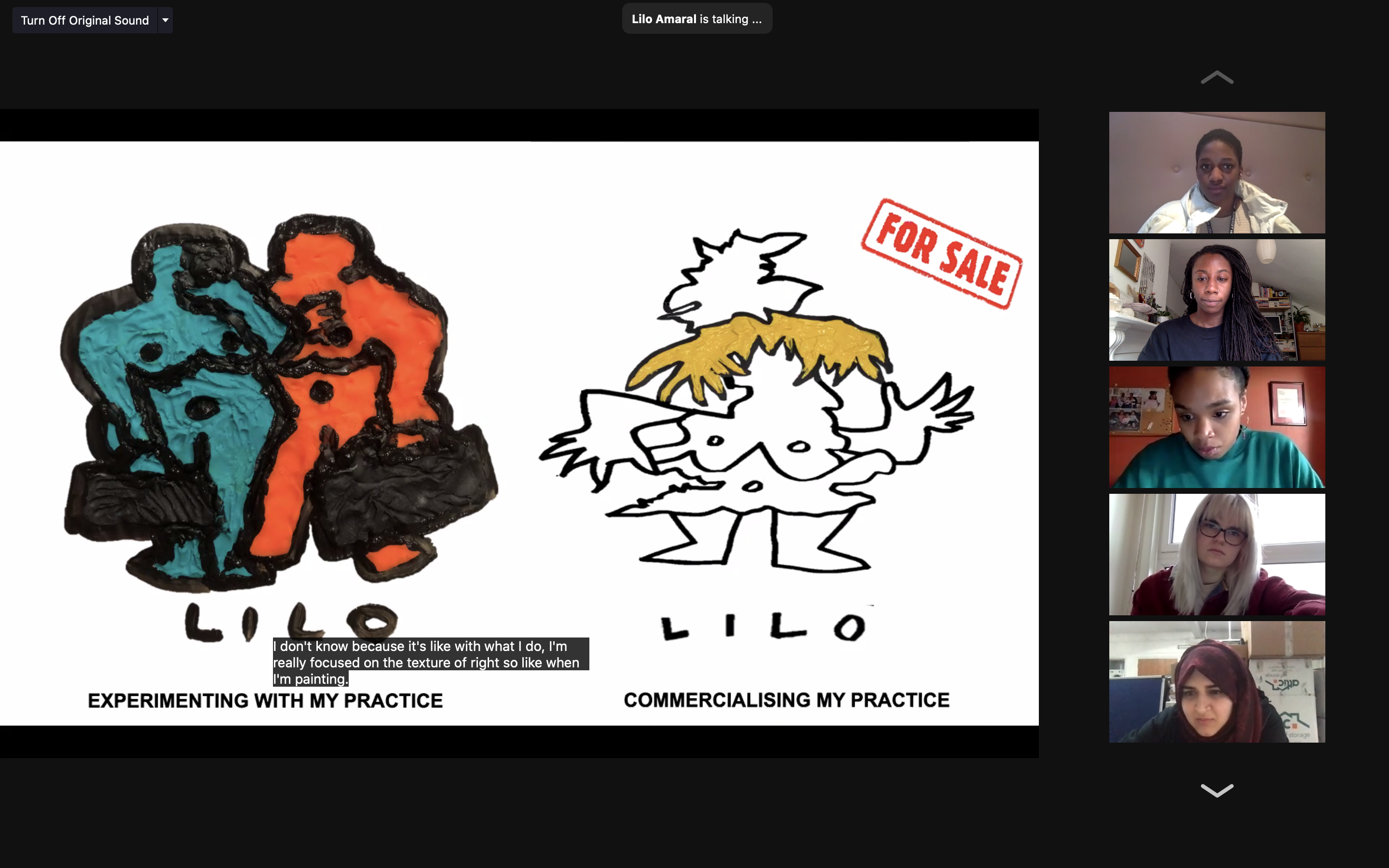 Artist Feedback Session, led by Asha Fontenelle at Turf Projects (April 2021). Image © Turf Projects
Lilo showed us some pieces in response to 12 o collective's 30works30days challenge.
Notes: Layers, Impasto technique, texture, acetate, building up, motivation, range, trying something new, different sizes, working large, differences, perseverance. We discussed the dedication and preservice it takes to complete a challenge, the feelings that arise upon completion of the challenge and what was learnt during the process.
Instagram/Website: instagram.com/lilogaleria
/ www.lilo.studio
We had a little bit of time in the end for me to show some work and I showed the group some acrylic gouache paintings I made and spoke of my process of capturing movement and dancing. Here's a plug to my work – instagram.com/ashafontenelle_
If you've made it to the end you're amazing! We discussed a lot in depth over the course of the 2-hour session, so this post barely cuts the surface. I recommend these sessions led by Turf to any artist, as it was really informative!
Thank you to Asha for leading this month's session! Our next free feedback session will be led by Lily Ash Sakula on the 27th May, BOOK HERE